Ikepod
Francois Delfosse
I'm elsewhere.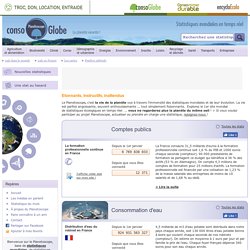 Bienvenue sur le Planetoscope, base de statistiques mondiales, de statistiques européennes ou françaises rapportées la seconde. Découvrez la planète à travers les chiffres et son écologie. Satistiques Mondiales & statistiques environnement 'temps réel'
Toegang geweigerd Deze pagina wordt getoond, omdat de domeinnaam die u zoekt is geblokkeerd. Bent u de beheerder van deze domeinnaam? Neem dan contact op met TransIP BV.
The right place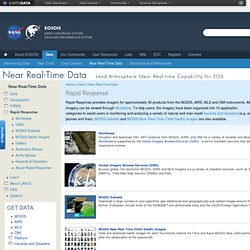 Visualize and download 100+ NRT products from MODIS, AIRS, and OMI for a variety of hazards and disasters categories. Worldview is supported by the Global Imagery Browse Services (GIBS) - a set of standard services that delivers imagery in a highly responsive manner. Access global, full-resolution MODIS, AIRS and MLS imagery via a variety of standard services, such as Web Map Tile Services (WMTS), Tiled Web Map Service (TWMS) and KML. Download a large number of user-specified, geo-referenced and geographically sub-setted images around the world in GIS-compatible format. Examples include most of the AERONET sun photometer sites and the USDA Foreign Agriculture Service (FAS) sites. View and download swath images for each five-minute interval for Terra and Aqua MODIS data.
MODIS Rapid Response System