StumbleUpon
How to make your own pore strips
You know those Biore pore strips you buy at the drugstore for about $12 a pop? Yeah, those. Today I'm going to teach you how to make your own homemade pore strips. 32 Pictures That Will Make You Say Awwwwwwww
Best Street Art of 2011
StumbleUpon.com: Discover the Best of the Web
20 awesome examples of street art
Mark Jenkins // Street Installations
how to: pore strips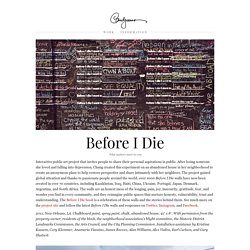 Before I Die & Candy Chang
What is important to you 2011 After Candy Chang lost someone she loved, she went through a long period of grief and depression. With time she felt gratitude for the time they had together and eventually she found clarity in her life by contemplating death so much. But she struggled to maintain this perspective. It's easy to get caught up in the day-to-day and forget what really matters to you. She wanted a daily reminder and she wanted to know what was important to the people around her.