Ihall2057
Ian Hall
I am an IT trainer, Casual Relief Primary School Taecher and E-portfoilio person
Your Bookmarks and favorites in the cloud. Teaching ideas, lesson plans. Technology in the Classroom - Intel® Learning Series. Mind Mapping Software - Create online Mind Maps. iMindMap HD. Description Also available on iPhone iMindMap HD is the ONLY Mind Mapping app that is endorsed by inventor of Mind Maps, Tony Buzan, allowing for truly organic Mind Maps and freedom to draw as if by hand.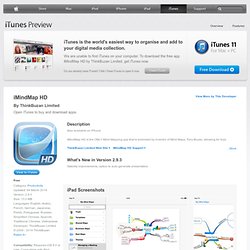 It is your limitless workspace for brainstorming ideas, note-taking during meetings or lectures, organising tasks, planning events, creating and delivering presentations and so much more.iMindMap HD is packed with intuitive, time-saving features to help lighten the load from your busy schedule and add a touch of creativity to everything you do. So, ditch the endless lists and dull slideshows and take refuge from the status quo with the creative tool for all tasks, iMindMap HD. iMindMap HD for iPad. Mindmap - cartes conceptuelles. Thinglinking. Personal development. MIND MAPPING.
iMindMap. MindMap. iMindMap Overview. Using an intuitive workspace, an unrestrictive structure and lots of visual stimulation, iMindMap is the perfect Mind Mapping tool for all thinking tasks.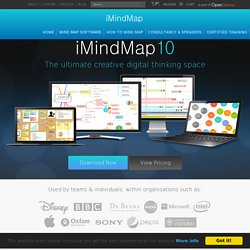 Enhance your productivity, unleash your creativity and improve your quality of work by joining the millions already Mind Mapping. See what's new in the latest version, iMindMap 7 Learn More. Home » Edynco. Blogging Tools. Pin by Piktochart on Education | Learning infographics. Microsoft & Nokia.
1st Juniors. Teaching. StoryKeepers - home. Professional Tools. Digital storytelling. Integrating the Web. MIND MAPS. 5 Innovative Mind-Mapping Tools For Education. What do you do when you have an elaborate project, assignment, or paper that needs to be quickly organized?
Do you fire up Microsoft Word and whip up an outline? Do you pull out a pen and paper and start sketching? Mind Mapping. EpCop Mooc. About me , Ian Hall. EPCOP learnspace My profile for EpCop MOOC I love e-learning..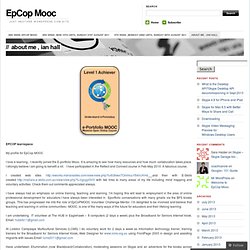 I recently joined the E-portfolio Mooc. It is amazing to see how many resources and how much collaboration takes place. I strongly believe I am going to benefit a lot.
Pearltrees videos
Help. ThinkBuzan - Support - Mind Map Gallery | iMindmap. ThinkBuzan - Products - iMindMap - Basic | iMindmap. Skype: How to Make Video Calls on Skype.
---
ihall2057 Aug 14 2011

Interesting it has a lots of things to add,,I will work on it
---