Internet alg
Kevin Kelly. Internet 2011 in numbers. Posted in Tech blog on January 17th, 2012 by Pingdom So what happened with the Internet in 2011?
How many email accounts were there in the world in 2011? How many websites? How much did the most expensive domain name cost? How many photos were hosted on Facebook? SOPA, Internet Censorship Bill, Lauded By Both Parties In Key House Hearing. WASHINGTON -- At a House Judiciary Committee hearing Wednesday, Democrats and Republicans joined together to voice support for legislation that would criminalize much of the activity that occupies the Internet.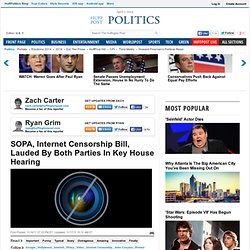 The bipartisan bill known as the Stop Online Piracy Act would establish major new powers for corporations intent on corralling copyrighted materials -- powers that would lead to big legal bills for start-ups and Silicon Valley giants alike. SOPA's Senate counterpart, the PROTECT IP Act, was already voted out of the Senate Judiciary Committee in September. Both political parties -- flush with campaign contributions from Hollywood studios and trial lawyers -- are eager to pass the legislation. The Senate version, introduced in May, has broad support, but has been held up by Sen. Ron Wyden (D-Ore.). Alexander Howard: Internet Companies and Lawmakers Speak Out Against the Stop Online Piracy Act. If freedom of expression, privacy and innovation online matter to you, it's time to pay attention to what's happening in Congress right now.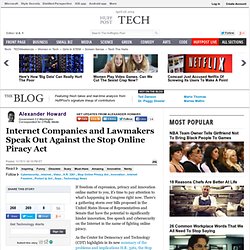 There's a gathering storm over bills proposed in the United States House of Representatives and Senate that have the potential to significantly hinder innovation, free speech and cybersecurity on the Internet in the name of fighting online piracy. As the Center for Democracy and Technology (CDT) highlights in its new summary of the problems and implications H.R. 3261, the Stop Online Piracy Act, "SOPA sweeps much more broadly and would chill online innovation and expression by creating major new litigation risks for service providers currently protected by the DMCA safe harbor.
" Informatica's Integration Cloud Bridges SAP, Salesforce, Others - ReadWriteCloud. The problem with SaaS services being delivered from different clouds is that they may as well be from different worlds.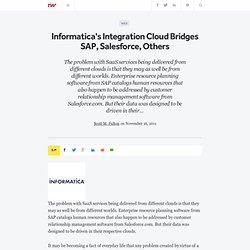 Enterprise resource planning software from SAP catalogs human resources that also happen to be addressed by customer relationship management software from Salesforce.com. But their data was designed to be driven in their respective clouds. How The Web Became Just Another Interface to the Cloud - ReadWriteCloud. For years, everyone was talking about the convergence of interfaces.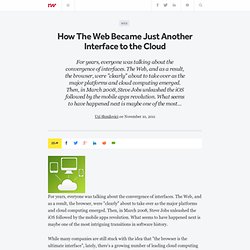 The Web, and as a result, the browser, were "clearly" about to take over as the major platforms and cloud computing emerged. Then, in March 2008, Steve Jobs unleashed the iOS followed by the mobile apps revolution. What seems to have happened next is maybe one of the most intriguing transitions in software history. While many companies are still stuck with the idea that "the browser is the ultimate interface", lately, there's a growing number of leading cloud computing companies that actually don't have a Web interface or that focus heavily on client software running on multiple devices.
---