Esafety
Google urged to change privacy rules by data regulators. 26 September 2014Last updated at 11:30 ET Google's changes to its privacy policies in March 2012 concerned many European data regulators European data privacy regulators have put renewed pressure on Google to alter its privacy policy.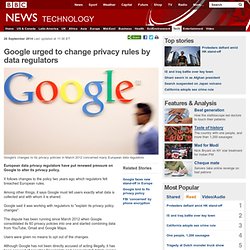 Techie teens shaping communications. 06 August 2014 A 'millennium generation' of 14 and 15 year olds are the most technology-savvy in the UK, according to new Ofcom research, which shows that after our teens our digital confidence begins a long decline.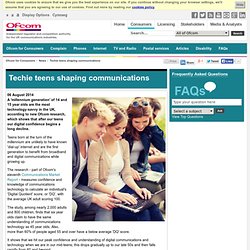 Teens born at the turn of the millennium are unlikely to have known 'dial-up' internet and are the first generation to benefit from broadband and digital communications while growing up. The research - part of Ofcom's eleventh Communications Market Report - measures confidence and knowledge of communications technology to calculate an individual's 'Digital Quotient' score, or 'DQ', with the average UK adult scoring 100. Youth Advice - Internet Privacy and Personal Data. Welcome to the Information Commissioner's Office (ICO) pages for young people – aimed at helping you protect your personal information.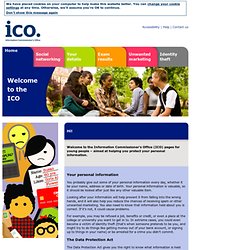 Your personal information You probably give out some of your personal information every day, whether it be your name, address or date of birth. Your personal information is valuable, so it should be looked after just like any other valuable item. News-from-UK-Safer-Internet-Centre---July-2014-edition. We can now reveal that the theme of Safer Internet Day, 10 February 2015 will be again Let's create a better internet together.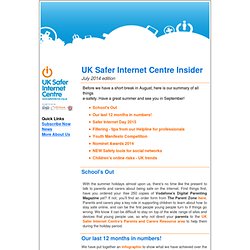 As we are starting to talk more often about a 'better' internet, not just a 'safer' internet we feel this theme lends a great opprtunity to look at how different stakeholders can contribute and have a role to play in creating a better internet. We'd love you to get involved in Safer Internet Day - as a school, youth organisation, service provider or company by: - Reaching out to young people, parents and carers in your school, youth group or workplace- Promoting the day on social media using #SID2015- Adding a banner to your website (Coming soon!)
- Join the Supporters List (Registration will open in October!) Parents rely too much on schools to teach online safety, say teachers. Nearly two thirds of teachers told online security company AVG that they have not been formally trained to teach their pupils internet safety, while 85 per cent of the 1,800 person sample said the topic should be a dedicated part of the education syllabus.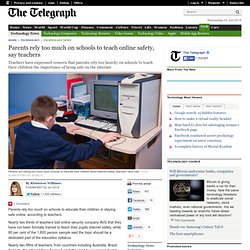 Nearly two fifths of teachers, from countries including Australia, Brazil, Canada, the UK and New Zealand, said they had been approached by pupils concerned by internet safety issues, while over a quarter had spoken to students worried about cyberbullying. When approached for advice on varies online safety issues, 28 per cent of the teachers questioned, on average, felt they were 'insufficiently equipped' or 'not equipped at all' to handle the issue. While 91 per cent of UK teachers indicated their school offered IT classes, compared to around 72 per cent globally, only 37 per cent of teachers had formal training in online safety.
How do we keep our children safe online? | Switched-on families. The jury is out on whether family-friendly internet filters – which are being offered to virtually all households in Britain from later this year – will be a breakthrough in helping parents feel in control of their children's online activities.
But whether they prove a popular tool or not, the consensus at a Guardian roundtable discussion was that filters could only be part of the solution to keeping children safe online. Education, for children and their parents, was seen as the pressing need by many participants in the Virgin Media-sponsored discussion, entitled "Switched on families: Does the online world make good things happen? " "We've got a generation of parents who simply don't know what it takes to raise a child in the digital age," said Vicki Shotbolt, CEO and founder of the Parent Zone. "When you talk to them they say they have no idea what it takes to get it right. " The flap over Talking Angela the chatbot app. If you're a parent, you know how little kids often want to be like their older sibs and other "big kids" they look up to.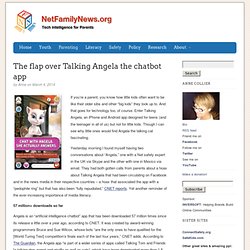 And that goes for technology too, of course. Enter Talking Angela, an iPhone and Android app designed for teens (and the teenager in all of us) but not for little kids. Though I can see why little ones would find Angela the talking cat fascinating. Pupils see more online porn, a teachers' union warns. 10 February 2014Last updated at 13:30 GMT By Patrick Howse BBC News, Education reporter Pupils have easy access to pornography on mobile devices, the ATL says School pupils are having more sexually explicit conversations with each other, a teachers' union says.
SID Relay. Booklet about involving young people in Social Networks - Essential read for schools thinking of using Facebook etc. A few people have asked be recently for copies of the Social Media Youth Participation in Local Democracy resource I worked on with LGIU out of a practitioners action learning set last year.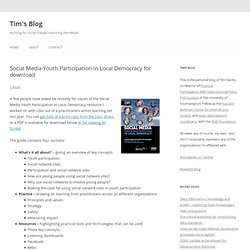 You can get hold of a print copy from the LGIU direct, or a PDF is available for download below or for viewing on Scribd. The guide contains four sections: What's it all about?
News Articles. Safer Internet Day. Copyright. Agency sites. Validity, Reliability and Bias. How Secure Is My Password?
---