People
Peter Bretscher
96,34 Prozent aller Texte sind schlecht formuliert. Und haben den Unterhaltungswert einer toten Ente. Das ist aber auch gar nicht weiter schlimm. Ausser man möchte, dass sie gelesen werden. Nun, die gute Nachricht ist: Für tolle Texte braucht man kein Talent. Sondern nur die richtige Technik.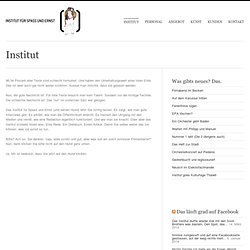 Institut für Spass und Ernst (und seinen Hund) » Institut
accretio group, kris stappers profile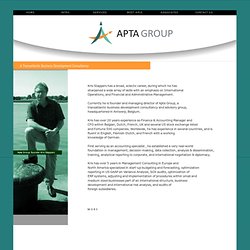 Kris Stappers has a broad, eclectic career, during which he has sharpened a wide array of skills with an emphasis on International Operations, and Financial and Administrative Management. Currently he is founder and managing director of Apta Group, a transatlantic business development consultancy and advisory group, headquartered in Antwerp, Belgium. Kris has over 20 years experience as Finance & Accounting Manager and CFO within Belgian, Dutch, French, UK and several US stock exchange listed and Fortune 500 companies. Worldwide, he has experience in several countries, and is fluent in English, Flemish-Dutch, and French with a working knowledge of German.
Ludwig Hasler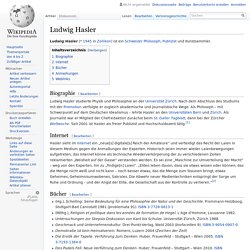 Ludwig Hasler (* 1945 in Zollikon ) ist ein Schweizer Philosoph , Publizist und Kunstsammler. Biographie [ Bearbeiten ] Ludwig Hasler studierte Physik und Philosophie an der Universität Zürich . Nach dem Abschluss des Studiums mit der Promotion verfolgte er zugleich akademische und journalistische Wege. Als Philosoph – mit Schwerpunkt auf dem Deutschen Idealismus – lehrte Hasler an den Universitäten Bern und Zürich .
Buckminster Fuller Archive : Free Movies : Download & Streaming : Internet Archive
who's the architect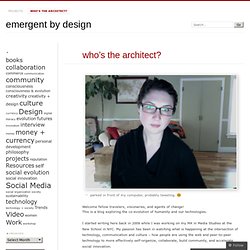 parked in front of my computer, probably tweeting. :) Welcome fellow travelers, visionaries, and agents of change! This is a blog exploring the co-evolution of humanity and our technologies. I started writing here back in 2009 while I was working on my MA in Media Studies at the New School in NYC. My passion has been in watching what is happening at the intersection of technology, communication and culture – how people are using the web and peer-to-peer technology to more effectively self-organize, collaborate, build community, and accelerate social innovation. I feel that we are a global society in transition.
imke keicher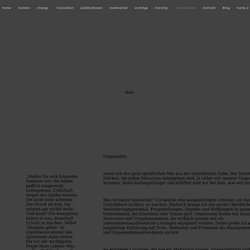 Uniquability nenne ich den ganz spezifischen Mix aus der individuellen Gabe, den Talenten und Stärken, die jedem Menschen mitgegeben sind. Je näher wir unserer Uniquability kommen, desto leistungsfähiger und erfüllter sind wir bei dem, was wir tun. Was ist meine Spezialität? Ich besitze eine ausgezeichnete Antenne, um das Unsichtbare sichtbar zu machen. Dadurch bringe ich das an die Oberfläche, was an Veränderungspotential, Fragestellungen, Ängsten und Hoffnungen in ganzen Unternehmen, bei Einzelnen oder Teams gärt.
Nerd for hire: San Sharma, community manager and web editor
Quite often, what we mistake for our earliest memories are in fact our fathers' first camcorder outings. So I won't claim this as my own, but I do remember seeing, at least, a home video of a man known to my family as simply... the Swami. The Swami, which is an honorific title, is a holy man who tours the world, staying for a few days at a time in Hindu homes.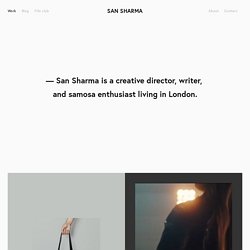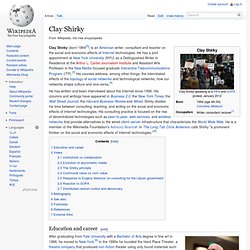 Clay Shirky (born 1964[2]) is an American writer, consultant and teacher on the social and economic effects of Internet technologies. He has a joint appointment at New York University (NYU) as a Distinguished Writer in Residence at the Arthur L. Carter Journalism Institute and Assistant Arts Professor in the New Media focused graduate Interactive Telecommunications Program (ITP).[3] His courses address, among other things, the interrelated effects of the topology of social networks and technological networks, how our networks shape culture and vice-versa.[4] Education and career[edit]
bernhardjenny über kommunikation - kommunikation für unternehmen und organisationen
Schell in a Handbasket
self determination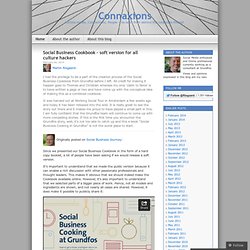 Connaxions
How do you eat an elephant? You probably already know the answer: One bite at the time! At the time of writing this I am sitting on a ferry on the way to Copenhagen reflecting a little about the past week and in particular the Enterprise 2.0 Summit in Paris which I was fortunate to attend. For outsiders this conference may have appeared like a bit of a family reunion for the E2.0 family and that is not too far off.
reeto von gunten / words & music / worte & musik / auesgarnidwahr / removable / made to measure music / atelieer
Co-(R)evolutionary Consultancy Summa Co-(R)evolutionary Consultancy setzt auf einen agilen und partizipativen Beratungsansatz und entwickelt mit Ihnen zusammen heute strategische Konzepte für die integrierte und effektive Unternehmenskommunikation von morgen. Wir unterstützen Sie bei der erfolgreichen Einführung neuer Corporate Media Channels und (r)evolutionieren und vernetzen mit Ihnen zusammen Ihre Kommunikations- mit der Geschäftsstrategie.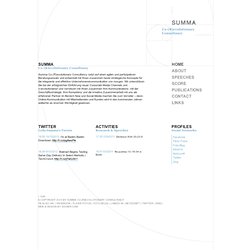 Home - Summa Co-(R)evolutionary Consultancy
Tim Pritlove | Project Blinkenlights
Feldenkrais-Praxis Ulrike Springer, Luzern
Immer wieder verspannt an Nacken, Rücken und Schulter? Rückenschmerzen? Müde?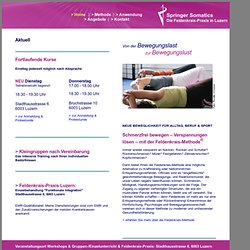 Wisdom for a Happy Life: Be Respectful One of the most important things to do in life is to be respectful towards other… more Follow Your Passion – Good Advice or Bad? Truth, or happiness fallacy? Summary: Following your passion might lead to a number of disappointments when…
Jürg Stuker (jstuker) on Twitter - Flock
Mark Burhop (burhop) on Twitter - Flock
Leute wie Klaus Eck propagieren ja seit langem, dass man, um seine Reputation zu schützen, das Internet mit Informationen fluten soll, die positiv geprägt sind. Dann sind eventuell erscheinende negative Beiträge nicht so leicht zu finden und das Gesamtbild bleibt eher ein positives. Zugleich führen wir ja ständig sehr emotionale Privatsphären-Diskussionen. Darin wird die Frage gestellt, wie wir unsere Privatsphäre schützen können.
Wer sich entblößt, schützt seine Privatsphäre mitunter am besten
Two shores of the same river, either can get you into a lot of trouble. Self-delusion is lying to yourself about how good you are. You might think you're a world class designer or actor or chef or administrator or problem solver, but you might be merely well-intentioned, hard-working and pretty good.
Self-delusion and self-loathing
Jim Lukach (jfl1066) on Twitter - Flock
Odor eater
Xmas wine- Germany style - Jim's posterous
Dragon Dictation comes to the iPhone. Wow. (Mel Martin/TUAW)
At this moment, the must-read stories in technology are scattered across hundreds of news sites and blogs. That's far too much for any reader to follow. Fortunately, Techmeme arranges all of these links into a single, easy-to-scan page. Our goal is to become your tech news site of record. Story selection is accomplished via computer algorithm extended with direct human editorial input.
Roger R (unclr) on Twitter - Flock