People
Peter Bretscher
96,34 Prozent aller Texte sind schlecht formuliert. Und haben den Unterhaltungswert einer toten Ente. Das ist aber auch gar nicht weiter schlimm. Ausser man möchte, dass sie gelesen werden. Nun, die gute Nachricht ist: Für tolle Texte braucht man kein Talent. Sondern nur die richtige Technik.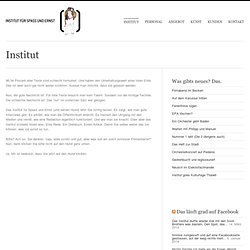 Institut für Spass und Ernst (und seinen Hund) » Institut
accretio group, kris stappers profile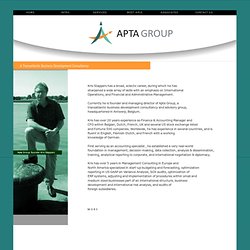 Kris Stappers has a broad, eclectic career, during which he has sharpened a wide array of skills with an emphasis on International Operations, and Financial and Administrative Management.
Ludwig Hasler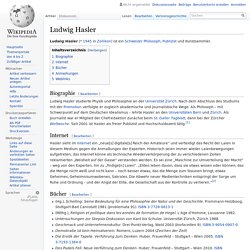 Ludwig Hasler (* 1945 in Zollikon ) ist ein Schweizer Philosoph , Publizist und Kunstsammler.
Buckminster Fuller Archive : Free Movies : Download & Streaming : Internet Archive
who's the architect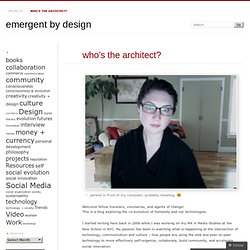 Emergent by Design is an exploration into what it means to be human in an accelerating world, as seen through the mind and heart of Venessa Miemis, a curious observer, sensemaker, and free spirit. Venessa's background in psychology, social theory, and media studies, combined with interests in futures studies, systems theory, and consciousness research create a unique perspective from which to think about massive change.
imke keicher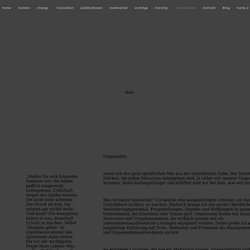 Uniquability nenne ich den ganz spezifischen Mix aus der individuellen Gabe, den Talenten und Stärken, die jedem Menschen mitgegeben sind.
Nerd for hire: San Sharma, community manager and web editor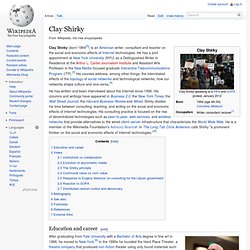 Clay Shirky (born 1964[2]) is an American writer, consultant and teacher on the social and economic effects of Internet technologies.
bernhardjenny über kommunikation - kommunikation für unternehmen und organisationen
Schell in a Handbasket
self determination
Connaxions
reeto von gunten / words & music / worte & musik / auesgarnidwahr / removable / made to measure music / atelieer
Home - Summa Co-(R)evolutionary Consultancy
Tim Pritlove | Project Blinkenlights
Feldenkrais-Praxis Ulrike Springer, Luzern
Delivering Happiness — A Path To Profits, Passion, and Purpose | by Tony Hsieh
IT Coaching Stumped with the ever evolving technology?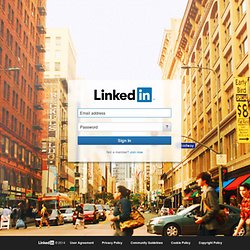 Thomas Mouzinho
Jürg Stuker (jstuker) on Twitter - Flock
Mark Burhop (burhop) on Twitter - Flock
Leute wie Klaus Eck propagieren ja seit langem, dass man, um seine Reputation zu schützen, das Internet mit Informationen fluten soll, die positiv geprägt sind.
Wer sich entblößt, schützt seine Privatsphäre mitunter am besten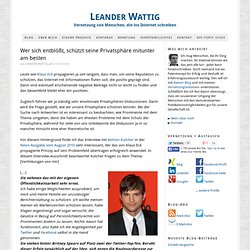 Two shores of the same river, either can get you into a lot of trouble. Self-delusion is lying to yourself about how good you are. You might think you're a world class designer or actor or chef or administrator or problem solver, but you might be merely well-intentioned, hard-working and pretty good.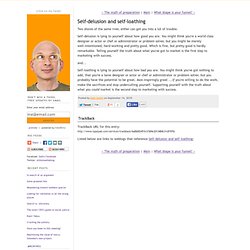 Self-delusion and self-loathing
Jim Lukach (jfl1066) on Twitter - Flock
Odor eater
Xmas wine- Germany style - Jim's posterous
Dragon Dictation comes to the iPhone. Wow. (Mel Martin/TUAW)
At this moment, the must-read stories in technology are scattered across hundreds of news sites and blogs.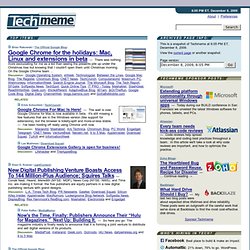 Roger R (unclr) on Twitter - Flock