Jellyweek
Photo by igori. Jellyweek 2013 Let's cook together. Here we go again #jellyweek #2013. Photo by igori. Photo by igori. Hilldude : Ah found my standing desk at... WORLDWIDE #JELLYWEEK 2012: JELLYWEEK SUMMER WORKCAMP is coming. WORLDWIDE #JELLYWEEK 2012: PROUDLY PRESENTED: Jellyweek Crew Part 2 / Xaver, Arnaud, Anni. Looking back to jellyweek 2012. Episode 3: Jelly Week from Bergsjön Interconnected, Sweden | MakeChange.TV | Empowering you!
Dear friends of Make Change TV, I made my first trip to Sweden and attended Bergsjön Interconnected event which was part of the worldwide Jelly Week 2012.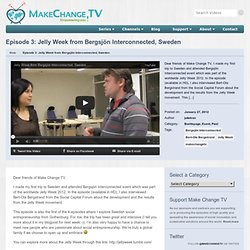 In the episode (available in HD), I also interviewed Bert-Ola Bergstrand from the Social Capital Forum about the development and the results from the Jelly Week movement. This episode is also the first of the 4-episodes where I explore Swedish social entrepreneurship from Gothenburg. Beam me up Jelly - Mur. Worldwide Jellyweek 2012 Countdown. It's easy to forget the Jelly's roots when you take a glimpse at the Jellyweek Google map registry.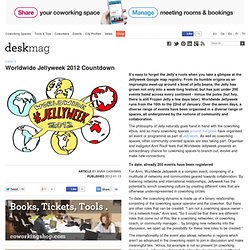 From its humble origins as an impromptu meet-up around a bowl of jelly beans, the Jelly has grown not only into a week-long festival, but has just under 200 events listed across every continent - minus the poles (but hey, there is still Frozen Jelly a few days later). Worldwide Jellyweek runs from the 16th to the 22nd of January. Over the seven days, a diverse range of events have been organised in a diverse range of spaces, all underpinned by the notions of community and collaboration. The philosophy of Jelly naturally goes hand in hand with the coworking ethos, and so many coworking spaces around the globe have organised an event or programme as part of Jellyweek. #JELLYWEEK /// Google Map. WorkINcompany :: Espacio Coworking en Sevilla Calle Rioja 13, 2ºA - 41001 - Sevilla +34 954 21 26 24 info@workincompany.com MeetUp group JELLY!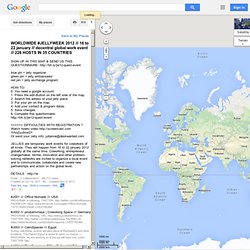 Sevilla. Patchcoworkingzug. Am. Window painted #jellyweek. Am. #JELLYWEEK 2012 (jelly_world) #JELLYWEEK 2012. WORLDWIDE #JELLYWEEK 2012. PROUDLY PRESENTED: Jellyweek Crew Part 1 / Leslie, Bert-Ola, Leila From 2nd to 9th of september the international Jellyweek Crew will gather for the first time at the JELLYWEEK SUMMER WORKCAMP in the south of France.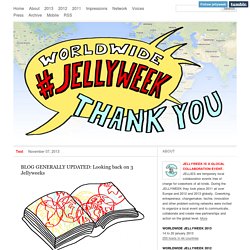 It will be a very important moment for the Jellyweek movement, when people who mostly experienced together the first Worldwide Jellyweek in January 2012, but who didn't meet each other personnally before, will come together with their experiences, skills, energies for the first time to cocreate the next Jellyweek in January 2013. JELLYWEEK WORLDWIDE.
---