Communities
Spontacts – Lust auf mehr Freizeit?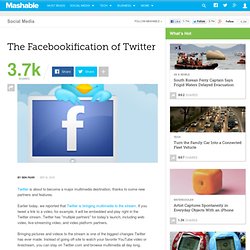 The Facebookification of Twitter
Twitter is about to become a major multimedia destination, thanks to some new partners and features. Earlier today, we reported that Twitter is bringing multimedia to the stream . If you tweet a link to a video, for example, it will be embedded and play right in the Twitter stream. Twitter has "multiple partners" for today's launch, including web video, live-streaming video, and video platform partners. Bringing pictures and videos to the stream is one of the biggest changes Twitter has ever made. Instead of going off-site to watch your favorite YouTube video or livestream, you can stay on Twitter.com and browse multimedia all day long.
Stream (FQL) - Facebook Developer Wiki