REFERENCE
Get flash to fully experience Pearltrees
Generally speaking, the odds are stacked heavily against the average startup.
I've caught on to this SlideShare presentation fairly late, so there's a chance you've already seen it (it's garnered nearly 50,000 views so far), but it's definitely worth sharing here.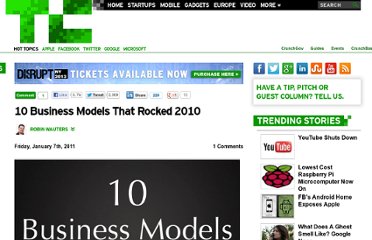 Posted by mobile news in payment news on Mar 30th, 2010 | no responses Gartner , Inc. has identified 10 mobile technologies that will evolve significantly through 2011 in ways that will impact short-term mobile strategies and policies. Investments in mobile applications and technologies will increase through 2011 as organizations emerge from the recession and ramp up both business-to-employee (B2E) and business-to-consumer (B2C) mobile spending. "We are highlighting these 10 mobile technologies that should be on every organization's radar screen," said Nick Jones, vice president and distinguished analyst at Gartner . "These mobile technologies were selected because they will evolve in ways that affect corporate strategies, significant numbers of customers or employees will adopt or expect them, or they will address particular mobile challenges that organizations will face through 2011."
Don't spend money on marketing, do offer flexibility and data exporting to eliminate buyers' regret, make sure to capitalize on and value goodwill, and only charge for things that are hard to do. That's what some startups say is the key to success in the freemium business. But the biggest reason the five presenters this morning at the Freemium Summit in San Francisco — Pandora, Dropbox, Evernote, Automattic (see disclosure at the bottom) and MailChimp — are doing well is because they have great products that people want. They've been able to get those products to a broad audience by using the freemium model — that is, offering a free service with the option to upgrade. It's an increasingly important business model, but one that's hard to navigate, so their anecdotes, open sharing of data, and lessons learned were really valuable.