Hard & Soft Powers dans la politique étrangère russe
i-GOROD.comльный сайт Фонда «Сколково»
ModernRussia.ru
Sochi 2014
К 65let.ruВеликой Победы.
Russian President delivers annual public address
Luego del ataque militar de Rusia a Georgia, en septiembre de 2008, Dominique Moissi escribió en El País: "Mientras China pretende seducir e impresionar al mundo con el número de medallas olímpicas conseguidas, Rusia quiere impresionarlo con la demostración de su superioridad militar. El poder blando de China frente al poder duro de Rusia: las preferencias de los dos países reflejan el grado de confianza que tienen en sí mismos". El término soft power (poder blando) fue acuñado por el politólogo estadounidense Joseph Nye en 1990 y hoy es popularmente usado en los ámbitos diplomáticos de todo el mundo. Remite a la capacidad de influir sobre los demás gracias a métodos e iniciativas que generen atracción subjetiva: la cultura, los valores y la política exterior.
Rusia y el soft power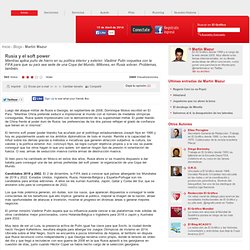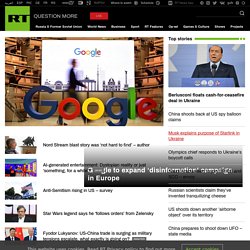 Russia Today
It is RT's flagship program hosted by Peter Lavelle. This TV presents hot-topic discussions on politics, business, newsmakers, global trends, present-day conflicts, and dangers and challenges facing our world. ​Lowering media bar What harm can spreading news via social media without editorial control cause? How should news organizations act...
Patriarche Cyrille à l'Assemblée Russkiy Mir
Medvedev Official Blog
La Russie d'Aujourd'hui
Dakar 2014 : passages difficiles pour les KamAZ russes 14 janvier, 2014 Alexeï Mosko, La Russie d'Aujourd'hui Au Dakar 2014, les équipages des KamAZ sont victimes de nombreux incidents. Et le pire reste peut-être à venir. Sport automobile : 2013, l'année des réussites pour la Russie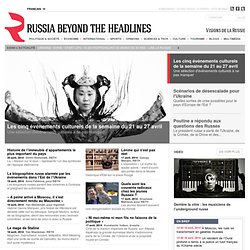 Dmitry Medvedev on Twitter
Президент России KremlinRussia on Twitter
Молодой энтомолог из США, родившийся в России, приезжает в Южную Осетию для съемок фильма о редком виде ночных бабочек. Там он встречается с журналисткой Женей, с которой учился в московской школе. Молодые люди отправляются в заповедник и устанавливают специальные камеры для съемки ночных бабочек. Ночью грузинские войска нападают на Южную Осетию. Камеры снимают начало операции. Западные же средства массовой информации в один голос утверждают, что это Россия и Южная Осетия напали на Грузию.
Olympus Inferno
Putin being criticized by journalist
Tchastusky Medvedeva i Putina
Prime Minister Putin Bitch Slaps Oleg Deripaska Part 1