EU-Russia Relations
46-Georgia, Obama, the Economic Crisi. The firmly entrenched stagnation of relations between Russia and the European Union is leading to mutual dissatisfaction and even distrust.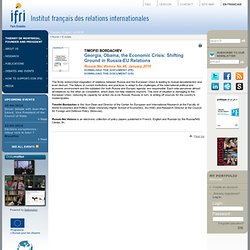 The failure of current institutions and practices to adapt to the challenges of the international political and economic environment and the outdated (for both Russia and Europe) agenda, are responsible. Each side perceives almost all initiatives by the other as competitive, which does not help relations improve. This kind of situation is damaging to the European Union, reducing its capacity for action vis-à-vis Russia; Russia, in turn, is writing off sources for the country's modernization. Timofei Bordachev is the Vice-Dean and Director of the Center for European and International Research at the Faculty of World Economics and Politics (State University-Higher School of Economics, SU-HSE) and Research Director at the Council for Foreign and Defense Policy (Moscow). 25- High Stakes in the High North. After the collapse of the Soviet Union, Norway embarked on a policy to overcome old dividing lines in the High North and encourage closer cooperation with Russia, its large neighbor to the east.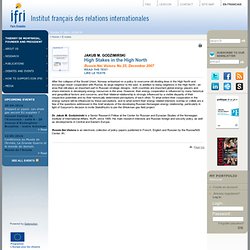 In addition to being neighbors in the High North - an area that still plays an important part in Russian strategic designs - both countries are important global energy players and share interests in developing energy resources in the area. However, their energy cooperation is influenced by many historical and geopolitical factors and concerns, and their bilateral relationship is strongly influenced by a visible disparity of their respective potentials and by their historically determined perceptions of each other.
20- Russia-EU Beyond 2007. 15- Russia and the Council of Europe. 13- The EU-Russia Energy Dialogue. 7- EU Crisis : What Opportunities for Russia.
EU Presidency and Russia
EU and the Eastern Partnership. European Neighbourhood Policy. Workshop EU-Russia Relations. Russia-Germany Relations.