Kids
Astro Sonic Saucer Box Art Print 8x10 by johnwgolden. Robots Rayguns and Racers Set of 4 Prints Pick by johnwgolden. Set of 4 sci-fi tin toy box art illustrations from the Robots, Rayguns and Racers Series by Artist John W Golden.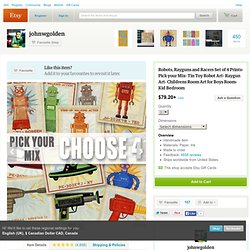 You get to pick your choice of four prints from the entire collection. Simple let me know which 4 you would like in the Message to Seller during checkout. New Size 5 in x 7 in Set of 6 Robot Illustrations by johnwgolden. Retro Robot Art Prints - Box art ilustrations for a 6 cute little robots.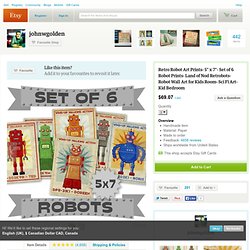 You get Ted, Boris, Lois, Oscar, Doreen and Stan Jr. for a special set of 6 price Image is digitally created and reproduced on archival paper. Image size is 5"x7". Comes packaged with a flawboard backing in a single cello bag. Dads and Grads Sale Set of 4 Rocket Mini Art by johnwgolden. <div id="javascript-nag" class="notice"><p> Take full advantage of our site features by enabling JavaScript.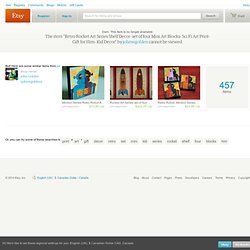 <a href=" more</a>. </p></div> Help Etsy Cart. Owl Hooded Towel by MWW - IOHTOW.
---