Dresses
Vintage Water Color Print Sundress from fhtv on Ruby Lane. 1960s Jack Roberts Mod Black Party Dress by craftycrowvintage. Sophisticated 1960s little black dress.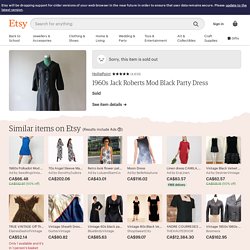 The dress has a little bow at the neckline and it buttons to the hips with large black buttons. The sleeves are 3/4 length and thedress is slightly tapered through the waist and slightlyflared through the bust and hips. SALE Vintage Pastel Rayon Floral Dress by orangetwine. Vintage 70s Sheer Berry Red Lace Flared Day Dress M by empressjade. Rich Berry Red with a touch of burgundy vintage 70s dress.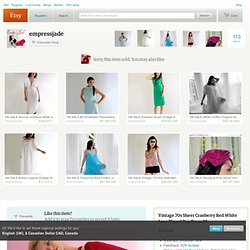 A pullover dress that buttons up the front of bodice. Loose fitting bodice with insets of sheer white net and lace. Elbow length sleeves with self ruffles and elastic casings. Elastic waistline. SALE Vintage 1980s Polyester Houndstooth Frock by orangetwine. SALE Vintage Hot Pink Candystripe Frock Dress by orangetwine. Vintage Newton Centre Khaki and Navy Worker Dress by JoulesJewels. <div id="javascript-nag" class="notice"><p> Take full advantage of our site features by enabling JavaScript.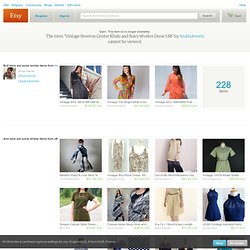 <a href=" more</a>. </p></div> Help Etsy Cart. Vintage Dresses Listed Daily 40s 50s 60s by gogovintage. Vintage Baby Doll Floral Gray and White Dress by OliviasButterfly. Lovely Vintage Baby Doll Floral Dress with a middy collar and stretchy waist band.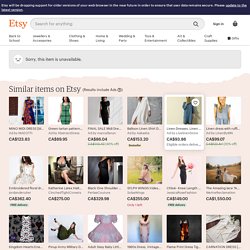 The dress has double breasted small buttons and shoulder pads. The bottom flare gives the dress it baby doll feel. I found a couple of faint stains on the front of the dress that are barely seen. And there are no tags. Other than that the dress is in great condition. Nadine Eyelet Dress.
---