Article Interessaant
Often as freelancers (budding or otherwise), our goal is to get 'out there.' We want as many people as possible to view our LinkedIn portfolio, visit our blog, appreciate our Behance project, and contact us for work. We have no qualms about exposing our names and contact information, and we often forget that others have different privacy preferences. Really?!
Make this very important change to your design contract today!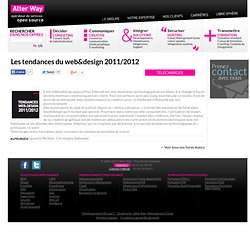 Il est indéniable qu'aujourd'hui Internet est une révolution technologique et sociétale. Il a changé la façon dontles hommes communiquent et créent. Tous les secteurs sont peu à peu touchés par ce media.
Web design has gone from a simple page presentation of certain information on the Internet to fancy design, with intricate details and complicated applications; hence it is an industry walking hand in hand with the increasing needs of the fast developing technology and trends. Trends come and go, some of the old trends are hidden in a box, while other old trends come back to life and in some cases some totally new revolutionary trends appear that beat up all the rest. This is why web designers all over the world have to keep up with the latest trends in web design, because the client would always ask for this.
The Latest Trends in Web Design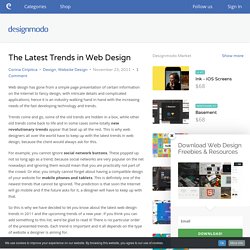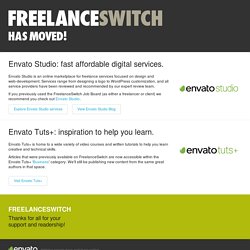 It may feel intimidating to launch your freelance business from scratch. Reaching out to a community of freelance professionals certainly helps get you started in the right direction. Learn from seasoned professionals about the common pitfalls to watch out for when beginning as a freelancer and the essential strategies you'll need for success. Whether you're in the process of setting up the basics of your freelancing business or are still weighing up your options, these articles will help you get started with your first steps in freelancing . A Comprehensive Guide to Starting Your Freelance Career
Getting Started as a Freelancer | FreelanceSwitch
10 Tools for More Efficient Tweeting
As Twitter continues to grow at an incredible pace each day, the importance of the platform grows with it. Developing a strong social media presence and growing your network of followers demands being active on Twitter.