Article Interessaant
Make this very important change to your design contract today! Les tendances du web&design 2011/2012 | Node Js, CSS3 and all futur | Scoop.it. Il est indéniable qu'aujourd'hui Internet est une révolution technologique et sociétale.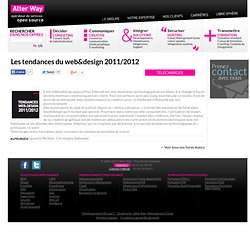 Il a changé la façon dontles hommes communiquent et créent. Tous les secteurs sont peu à peu touchés par ce media. Les tendances du web&design 2011/2012 | Node Js, CSS3 and all futur | Scoop.it. The Latest Trends in Web Design. Web design has gone from a simple page presentation of certain information on the Internet to fancy design, with intricate details and complicated applications; hence it is an industry walking hand in hand with the increasing needs of the fast developing technology and trends.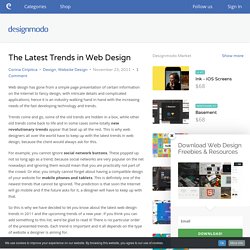 Trends come and go, some of the old trends are hidden in a box, while other old trends come back to life and in some cases some totally new revolutionary trends appear that beat up all the rest. This is why web designers all over the world have to keep up with the latest trends in web design, because the client would always ask for this. Getting Started as a Freelancer | FreelanceSwitch.
Envato Studio is an online marketplace for freelance services focused on design and web-development.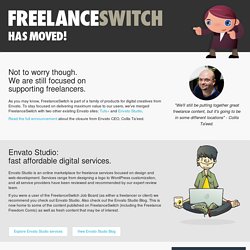 Services range from designing a logo to WordPress customization, and all service providers have been reviewed and recommended by our expert review team. If you were a user of the FreelanceSwitch Job Board (as either a freelancer or client) we recommend you check out Envato Studio. Also check out the Envato Studio Blog. 10 Tools for More Efficient Tweeting.
---