FireFox Add-ons
Remove It Permanently
Save File to
Copy Link Text
URL Fixer corrects typos in URLs that you enter in the address bar. For example, if you type google.con, it will correct it to google.com (asking first, if you enable confirmation). This version will correct common misspellings of .com, .net, .org, .edu, .gov, .mil, and all other mainstream TLDs, as well as the protocol (http:, https:). By right-clicking on the address bar, you can set it to auto-correct your errors, or you can have it ask you before making any corrections.
URL Fixer
Ghostery
Ghostery® Privacy StatementLast modified and effective as of: 12 December 2013 This Privacy Statement describes our information practices for the Ghostery browser extension. Ghostery is a free downloadable browser extension that helps you to see what companies are tracking you ('Trackers') on any given website. It is owned by Evidon, Inc. ('Evidon'), and can be downloaded onto your computer, subject to the End-User Licence Agreement ('EULA'). With the information that Ghostery provides, you can learn more about these Trackers and exercise personal control over this activity.
Vacuum Places
If you are having any technical problems, please discuss them on the support forum rather than posting them here. I can't diagnose issues if I can't talk to you about them! Issues with Screengrab and Firefox 3.6=============================Screengrab 0.96.2 has an issue with Firefox 3.6, where it calls the deprecated getBoxObjectFor function when locating Flash or Java objects for capture.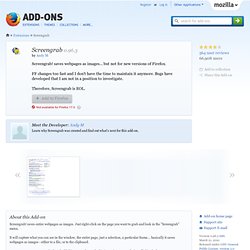 ScreenGrab
Privacy Policy This Privacy Policy governs the manner in which Greasemonkey collects, uses, maintains and discloses information collected from users (each, a "User") of the Greasemonkey Application. This privacy policy applies to the Application and all products and services offered by Greasemonkey. Personal identification information We do not collect personal identification information from Users. Non-personal identification information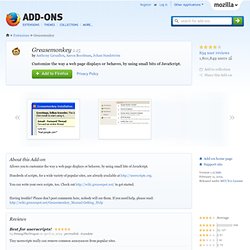 Userscripts
Script Summary: THE MOST ADVANCED AND UPDATED ANTI-SPAM. . . . . . . . . . If there is spam you want blocked the fastest way to alert me is to email at my4chanantispam@yahoo.com Send the entire spam message, and what specific board it's from, and thread link so I can test the script on it. Thank you. License: Copyright (c) 2010 ee The script is 100% free, but if you'd like to make a small donation it would be greatly appreciated.
4chan Anti Spam
User styles are themes for web sites. User styles empower your browsing experience by letting you customize web sites. Take out irrelevant content, change colors, or completely redesign the entire site.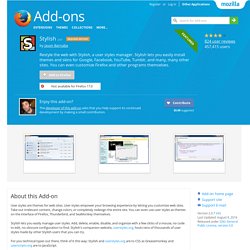 So GoogleCode sorta just locked me out of my own project. I have been working on something better. A lot of chans have either died, or exploded. So I'm thinking about proxying and rebooting this style back to usable. But in the meantime: Tidied the post form and fixed the impossible-to-see checkboxii.
4chan Dark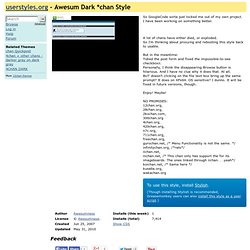 Youtube Black
Facebook Dark