Institutos y organizaciones de Idiomas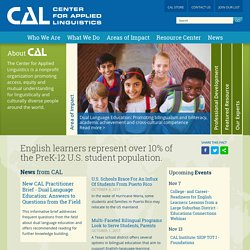 Dr. Terrence Wiley Honored by AAALThe American Association of Applied Linguistics (AAAL) has awarded Dr. Terrence Wiley, President and CEO of CAL, the 2014 Distinguished Scholarship and Service Award for his contributions to the field of applied linguistics and to AAAL. Congratulations to Dr. Wiley! Visit the AAAL website to learn more.
Centro de Idiomas Winston - Salem
Universal Language Academy
Lexicom the place !
INSTITUTO MEYER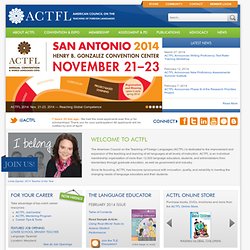 The American Council on the Teaching of Foreign Languages (ACTFL) is dedicated to the improvement and expansion of the teaching and learning of all languages at all levels of instruction. ACTFL is an individual membership organization of more than 12,000 language educators, students, and administrators from elementary through graduate education, as well as government and industry. Since its founding, ACTFL has become synonymous with innovation, quality, and reliability in meeting the changing needs of language educators and their students.
Home - American Council on the Teaching of Foreign Languages
You may not be able to visit this page because of: an out-of-date bookmark/favourite a search engine that has an out-of-date listing for this site a mistyped address you have no access to this page The requested resource was not found. An error has occurred while processing your request. Please try one of the following pages: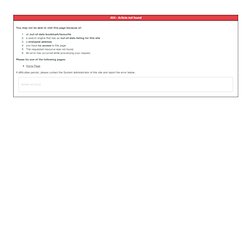 FNL - Centro de Idiomas - Inicio
Escuela de Idiomas
Programa de lenguas extranjeras Aprende una segunda lengua Las barreras del idioma se diluyen cada vez con mayor velocidad, por lo que es indispensable adquirir conocimientos en una segunda lengua.
Lenguas Extranjeras - Comfenalco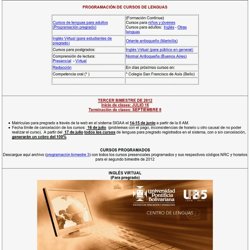 Idiomas UPB
Inicio de clases: JULIO 16 Terminación de clases: SEPTIEMBRE 8 Matrículas para pregrado a través de la web en el sistema SIGAA el 14-15 de junio a partir de la 8 AM. Fecha límite de cancelación de los cursos: 16 de julio (problemas con el pago, inconsistencias de horario u otro causal de no poder realizar el curso) . A partir del 17 de julio todos los cursos de lenguas para pregrado registrados en el sistema, con o sin cancelación, generarán un cobro del 100% Descargue aquí archivo ( programación bimestre 3 ) con todos los cursos presenciales programados y sus respectivos códigos NRC y horarios para el segundo bimestre de 2012
Centro de Idiomas - Universidad de Medellín
Idiomas EAFIT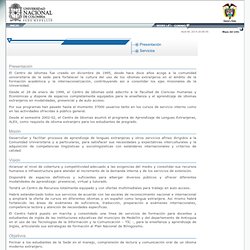 Presentación El Centro de Idiomas fue creado en diciembre de 1995, desde hace doce años acoge a la comunidad universitaria de la sede para fortalecer la cultura del uso de los idiomas extranjeros en el ámbito de la formación académica y la internacionalización, contribuyendo así a consolidar los ejes misionales de la Universidad. Desde el 29 de enero de 1999, el Centro de Idiomas está adscrito a la Facultad de Ciencias Humanas y Económicas y dispone de espacios completamente equipados para la enseñanza y el aprendizaje de idiomas extranjeros en modalidades, presencial y de auto acceso. Por sus programas han pasado hasta el momento 37000 usuarios tanto en los cursos de servicio interno como en las actividades ofrecidas a público general. Desde el semestre 2002-02, el Centro de Idiomas asumió el programa de Aprendizaje de Lenguas Extranjeras, ALEX, como requisito de idioma extranjero para los estudiantes de pregrado. Misión
Centro de Idiomas Universidad Nacional Medellín
Centro Colombo Americano
CENTRO DE IDIOMAS CEIPA
Berlitz
A.V.C. Audiovisual Center
Asocopi