Idettman
Coffee. Pixlib Flash Platform Framework. Pixlib - Pixlib Flash Platform Framework. Rework on Actionscript 3.0 with robust architecture and bunch of tools to speed up Flash development.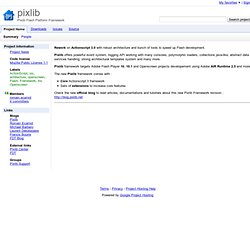 Pixlib offers powerful event system, logging API working with many consoles, polymorphic loaders, collections java-like, abstract data services handling, strong architectural templates system and many more. Pixlib framework targets Adobe Flash Player 10, 10.1 and Openscreen projects developement using Adobe AIR Runtime 2.5 and more. The new Pixlib framework comes with : Core Actionscript 3 framework Sets of extensions to increase core features. Zero point nine » Blog Archive » Maze Generation Algorithm. A couple months ago, while I was still a full-time student, which did not last very long, but that's another story, I created a maze generator as a way to learn some C++, now posted here just for the fun of it.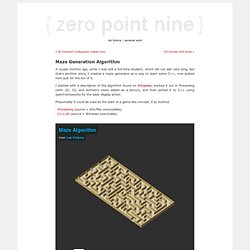 I started with a description of the algorithm found on Wikipedia, worked it out in Processing (with 2D, 3D, and isometric views added as a bonus), and then ported it to C++ using openFrameworks for the basic display action. Presumably it could be used as the start of a game-like concept, if so inclined. - Processing (source + Win/Mac executables) - C++/oF (source + Windows executable) Handpicked free fonts for graphic designers with commercial-use licenses.
Camera Class Quirks with FMS » Lost In Actionscript – Shane McCartney. I did a project recently requiring a web camera recording to Flash Media Server 3.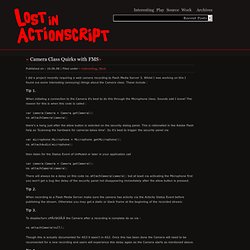 Whilst I was working on this I found out some interesting (annoying) things about the Camera class. These include : Tip 1. When initiating a connection to the Camera it's best to do this through the Microphone class. Элегантное оружие, для более... цивилизованного века - Форум Flasher.ru. Речь пойдет об emacs, универсальном текстовом редакторе, но не просто редакторе.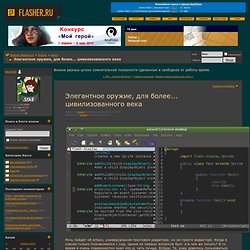 Когда я совсем только познакомился с Lisp, одним из первых вопросов был: а в чем же писать? В то время я очень поверхностно знал vim и, чуть лучше, Eclipse. Zero point nine » Blog Archive » FLV Encoder with Audio. FlvEncoder demo implementation: Records webcam video and audio to a local file !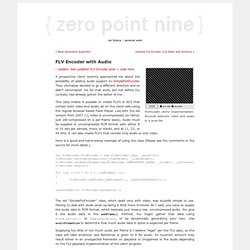 Update: See updated FLV Encoder post + code here A prospective client recently approached me about the possibility of adding audio support to SimpleFlvEncoder. They ultimately decided to go a different direction and so didn't commission me for that work, but not before my curiosity had already gotten the better of me… DontGoThroughThings. Author: Daniel Brauer, Adrian Description This script uses raycasting to avoid the physics engine letting fast-moving objects go through other objects (particularly meshes).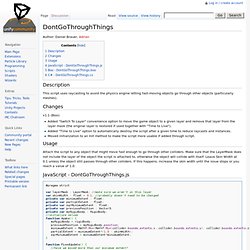 Changes. Making shooting function with RayCast iPhone. I have a Player script that shoots a bullet (rigidBody) to kill an enemy, and the same for enemy, who shoots that same bullet to kill Player.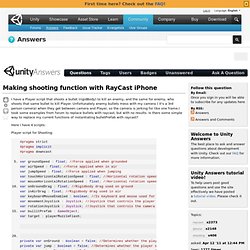 Unfortunately enemy bullets mess with my camera ( it's a 3rd person camera) when they get between camera and Player, so the camera is jerking for like one frame.I took some examples from forum to replace bullets with raycast, but with no results. Is thers some simple way to replace my current functions of instantiating bulletPrefab with raycast? Here I have 4 scripts: Player script for Shooting: Player script for lives: Exporting for iPhone using Air 2.7 and FlashDevelop - Part Two, Creating an iPhone Project | Code and Visual. Continuing on from Part One of the Exporting for iPhone using Air 2.7 and FlashDevelop Tutorial you should now have FlashDevelop primed with the Flex/Air 2.7 SDK and you're now ready to start building your amazing iPhone App.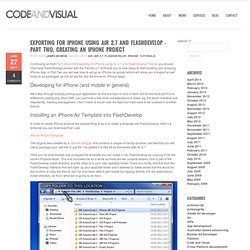 In Part Two you will see how to set up an iPhone Air project which will allow you to export an swf ready to be packaged up into an ipa file (the file format for iPhone Apps). Developing for iPhone (and mobile in general) We'll skip through actually coding your application as this is a topic in-and-of itself, but for the most part it's no different to coding any other SWF, you just have a few more considerations to make, eg. the touch interface and importantly, memory management.
I don't mean to brush over the topic but it will have to be covered in another tutorial. Installing an iPhone/Air Template into FlashDevelop. Latcho Flog » Phi. OPENCV \ library. OpenCV is an open source computer vision library originally developed by Intel.
It is free for commercial and research use under a BSD license. The library is cross-platform, and runs on Mac OS X, Windows and Linux. Benjamin Bojko. It's been quite a while since my last webcam tracking post but some magic has happened behind the curtains and two projects emerged during the last weeks which I don't want to leave unmentioned.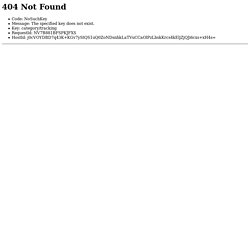 The guys at Neue Digitale did a pretty sweet job with their Audi Quattro Urban Curving Online Special which offers a game that lets you steer your way down steep roads by tilting your head left and right with the help of my tracking code. Mariusz Kreft and Matthias Gomille from argonautenG2 used my code for an awesome banner prototype as an entry for the Young Lions Award in Cannes.
Let's hope they rock the contest. HIDDEN HEROES. Google Swiffy. The Scala Programming Language. 'Touch Ski 3D' Gets Massive New Content in v2.0 Update (Review) Last month we took a look at Naquatic's Touch Ski 3D, an iPhone touch-screen skiing game that we found to be a very well done, simple title with an interesting control mechanic. At both its initial $0.99 and $2.99 regular price, it represented a solid value and was a great ticket for on-the-go fun on the slopes.
The California-based, two-brother team has just released a huge update to the already great title: Touch Ski 3D v2.0 [App Store]. Welcome. Object Detection Using Haar-like Features with Cascade of Boosted Classifiers. Introduction This document describes how to train and use a cascade of boosted classifiers for rapid object detection. A large set of over-complete haar-like features provide the basis for the simple individual classifiers. Examples of object detection tasks are face, eye and nose detection, as well as logo detection. Tutorial: OpenCV haartraining (Rapid Object Detection With A Cascade of Boosted Classifiers Based on Haar-like Features) - Naotoshi Seo. Tutorial: OpenCV haartraining (Rapid Object Detection With A Cascade of Boosted Classifiers Based on Haar-like Features) Objective The OpenCV library provides us a greatly interesting demonstration for a face detection. Furthermore, it provides us programs (or functions) that they used to train classifiers for their face detection system, called HaarTraining, so that we can create our own object classifiers using these functions.
A Guide To Enjoying (And Making Your Own) GIF Art. The past week we've seen a lot of chatter about how cinemagraphs are elevating the GIF to fine art, thanks in large part to an article in The Atlantic that ruffled some feathers in the art community. There's no denying that the GIF is seeing some unlikely (and long overdue) attention from the art world more than 20 years after it first showed up to animate our web experience in 1987.
In the past few months alone we've seen art critics like Paddy Johnson of Art Fag City call 2010 the Year of the Animated GIF (a statement she apparently believed fervently enough to curate a show about them a few months later) and Rhizome director Lauren Cornell selling GIFs at the traditionally conservative NY Armory Show this March. Image processing - OpenCV Object Detection - Center Point. Untitled. HaarCascadesDetector - in-spirit - Viola-Jones object detection using Adobe Flash. - Eugene Zatepyakin open source stuff. iPhone Development. Khan Academy. iPhone Development. » Xcode Workspace Setup for Oolong -- Mobile Perspectives. Oolongengine - Oolong Engine is an iPad / iPhone / iPod touch Engine.
Haxe, iPhone & C++ At Last | Game Haxe. 3dflashlo. Home > Away3D. Blob Sallad. Mastering AS3 namespaces | Leichtgewicht. Particles system with FP10 native 3D methods » ActionScript 3.0. JigLib – Bust a Cap In Papervision3D | zupko.info. I don't always open .exe files in emails from people i've never heard of But when I do, ***STOP: 0x0000D1 (0x000000, 0xF73120AE, 0xC00000000) A problem has been detected and Windows has been shut down to prevent damage to your computer | dos equis | Meme. Barrel - Part 1. Actus MEDIABOX, Centre de Formation Adobe & Apple. Astatic notes | Adobe Flash experiments and stuff. WiFi Pineapple - HakShop. 16 Useful Mathematical Formulas In ActionScript 3. A New AS3 Tween Engine | FlexMan. Interactive FLV video using netstream and cuepoints, Part I: Preloading an FLV or F4V | Plastic Sturgeon.
Download PhysicsEditor for Windows and MacOS. Adobe ActionScript 3.0 * Using cue points and metadata. Custom blend modes for Flash 10 » Lost In Actionscript – Shane McCartney. Wonderful Special effects in FLV Editor Ultimate. FLV to Video Converter Pro 2, FLV to AVI Converter. E4X in ActionScript 3.0. Hxswfml - xml to swf and abc. Search. Mozilla Firefox. Embed Almost Anything in Your SWF | dispatchEvent() Blog™ x264, the best H.264/AVC encoder.
Episode 6 Download - Telestream. Exploring Flash Player support for high-definition H.264 video and AAC audio. Flex - How to play flv formatted byteArray in OSMF. LG Optimus 3D gets a 3D augmented reality browser. FLV MetaData Injector - Adds meta info to your Flash Video files. FlashComGuru.com - The Original Flash Video, Flash Media Server and Flash Platform Resource: Tools. New flash playback method [Archive] [NetStream/Video] Seamlessly Play Consecutive Videos. AFTC: Article listing - Learn After Effects CS4 - Exporting from After Effects to Flash via XFL. Update on Go3D API – much more simple « John Grden. Instructions, Hackintosh How To Guides @ Hackintosh.com. Video-on-Demand over P2P in Flash Player 10.1 with Object Replication. Downloads - flvslicer - A simple FLV slicer and merger. BERLIN CURRYWURST. DTV :: All the demoscene on a web TV ! - Sincere.
Skip Lists | ActionScript 3 Design Patterns. Recursion | ActionScript 3 Design Patterns. ActionScript 3.0 Lazy Initialization and the Factory Method Design Pattern | ActionScript 3 Design Patterns. Zero point nine » Blog Archive » Updated FLV Encoder, 3.5x faster with Alchemy. Lazy Initialization | ActionScript 3 Design Patterns. Lazy instantiation | ActionScript 3 Design Patterns. Live video streaming online | Adobe HTTP Dynamic Streaming. ActionScript 3.0 and Parallel Programming: Get Ready for Decomposition | ActionScript 3 Design Patterns. Frameworks. FlashRealtime.com. Introducing M2D – GPU accelerated 2D framework for Flash 'Molehill' API. ActionScript 3.0 Design Patterns. ActionScript 3.0 Saturated Bridge Design Pattern 1: Intention | ActionScript 3 Design Patterns.
Visual vs Action Oriented Design [Game Design] Introducing FLVSlicer (slicing and merging capabilities) Why I'm Moving From HTML5 To Flash. Fake Functions « JacksonDunstan.com. AS3 vs. JavaScript Performance Followup (March 2011) « JacksonDunstan.com. Arduino - HomePage. Mozilla Firefox. H.264 for Image Compression in Flash.
Flash. Reference.
---