Startups
The Minuum Keyboard Project | By Whirlscape
Expanding beyond 3D printed guns, DEFCAD is officially the anti-MakerBot
When MakerBot booted 3D gun files from its file catalog in December, it may have created its own worst enemy: DEFCAD.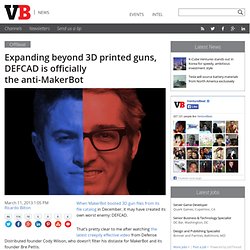 DEFCAD
Business Intelligence Software - SiSense Prism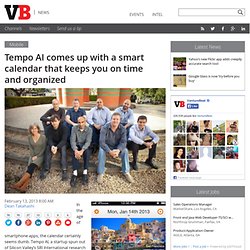 Tempo AI comes up with a smart calendar that keeps you on time and organized
In the age of smartphone apps, the calendar certainly seems dumb. Tempo AI, a startup spun out of Silicon Valley's SRI International research center, is changing that today with the launch of its Tempo Smart Calendar on the iPhone.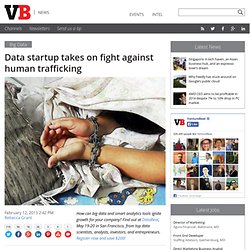 Data startup takes on fight against human trafficking
People have many ways to make the world a better place, but analyzing data has not traditionally been one of them. Data startup SumAll has established a foundation to use its resources, expertise, and equity for the greater good. The objective of SumAll.org is to collect, visualize, and present data to help nonprofit organizations tackle global issues.
Disrupt Finalist TalkTo Brings Its SMS-Based Communication Platform To The Web
Disrupt finalist TalkTo is today bringing its powerful communication platform for local businesses and consumers to the web. In its most basic form, the result is a Google-type search experience combined with text messaging. TalkTo launched a little over a year ago on our Disrupt stage, bringing to market a mobile app that let users contact any business via SMS.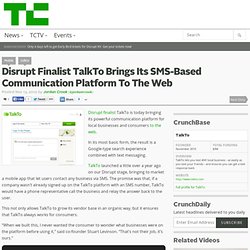 WP Pinner
ResumUP
By New-Startups.com on under Electronics With iPhone's and iPod Touch's replacing Game Boys and Nintendo DS's, it made us wonder how board games will change with the times. Sifteo Cubes is the new face of board games – packed with sensory technology, the fun new "Game Cubes" bring back the timeless playability of games brought to you by the likes of Mattel with the latest technology to produce a "hands-on play experience." Each pack of Sifteo comes with three cubes having a 1.5" display, sensors and wireless communication abilities. The 1.5" cubes allow for interactive play through its touch, motion, proximity and contact sensors.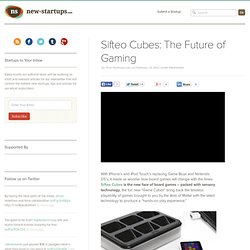 Sifteo Cubes: The Future of Gaming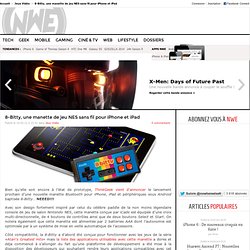 Bien qu'elle soit encore à l'état de prototype, ThinkGeek vient d'annoncer le lancement prochain d'une nouvelle manette Bluetooth pour iPhone, iPad et périphériques sous Android baptisée 8-Bitty… NEEED!!! Avec son design fortement inspiré par celui du célèbre paddle de la non moins légendaire console de jeu de salon Nintendo NES, cette manette conçue par iCade est équipée d'une croix multi-directionnelle, de 4 boutons de contrôles ainsi que de deux boutons Select et Start. On notera également que cette manette est alimentée par 2 batteries AAA dont l'autonomie est optimisée par à un système de mise en veille automatique de l'accessoire.
MANETTE 8-BITTY POUR IPHONE, IPAD ET ANDROID MOBILE
By New-Startups.com on under Fashion Creating an online store has a lot of options for would-be creative merchants.
ShopLocket: Selling Products As Easy As Embedding A YouTube Video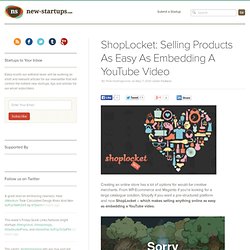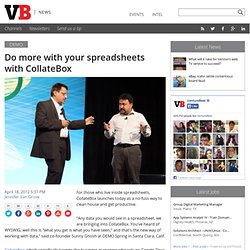 Do more with your spreadsheets with CollateBox
For those who live inside spreadsheets, CollateBox launches today as a no-fuss way to clean house and get productive. "Any data you would see in a spreadsheet, we are bringing into CollateBox. You've heard of WYSWIG, well this is "what you get is what you have seen," and that's the new way of working with data," said co-founder Sunny Ghosh at DEMO Spring in Santa Clara, Calif.
DecisionJam: Helping Startups Figure Out What to Use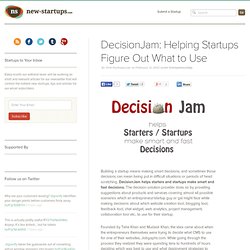 By New-Startups.com on under Entrepreneurship Building a startup means making smart decisions, and sometimes those decisions can mean being put in difficult situations or periods of head scratching. DecisionJam helps starters and startups make smart and fast decisions. The decision solution provider does so by providing suggestions about products and services covering almost all possible scenarios which an entrepreneur/startup guy or gal might face while making decisions about which website creation tool, blogging tool, feedback tool, chat widget, web analytics, project management, collaboration tool etc., to use for their startup. Founded by Taha Khan and Mudasir Khan, the idea came about when the entrepreneurs themselves were trying to decide what CMS to use for one of their websites, Jobgaphs.com.
Mash up Evernote and Pinterest, mix in beautiful layouts, and you get NotesCloud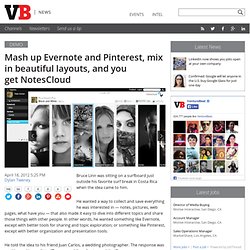 Bruce Linn was sitting on a surfboard just outside his favorite surf break in Costa Rica when the idea came to him. He wanted a way to collect and save everything he was interested in — notes, pictures, web pages, what have you — that also made it easy to dive into different topics and share those things with other people. In other words, he wanted something like Evernote, except with better tools for sharing and topic exploration; or something like Pinterest, except with better organization and presentation tools.
Cobook: The Smartest Mac Address Book App
By New-Startups.com on under Office and Career Touted as "The Smart Address Book", Cobook for Mac helps you spend less time managing contacts and stay better informed about them. The simple yet powerful alternative to Apple's Lion Address Book is a unique app is a solid solution if you find yourself managing a large contact list and need a place to find details instantly.
By New-Startups.com on under Music Imagine you're at a local startup event, people are mingling, drinks are flowing and music is pumping … wait "is that Nickelback? Ewww". Anthm is a newly launched free social music app on the App Store. Powered by the streaming music service Rdio, Anthm allows people to create or join location-based parties, which they can use to control the music being played in their location.
Anthm: A Modern Day Jukebox
Clothes Horse Wants To Solve The Biggest Problem With Online Shopping: Finding Clothes That Fit
Clothes Horse, a fashion technology company based out of New York, is publicly launching its platform today in an attempt to address one of the biggest challenges facing online shoppers: buying clothes that fit. Through the use of a customizable widget that merchants add to their own websites, Clothes Horse can determine within just 30 seconds how the retailers' items will fit any customer. The goal is not only to decrease shopping cart abandonment, but also the rate of returns due to ill-fitting clothes. The problem with shopping for clothes online is that customers have gotten burned by their past experiences. "Instead of being excited about this great new thing you're about to buy," explains Clothes Horse co-founder Vikram Venkatraman, "you think about the last time you had to return something, or you start wondering if it's really going to be as nice on you as it looks in the picture."
Epayments.com - Money From The Web To Your Pocket | Visit epayments
Although making business over the internet has helped a lot of people to find new markets, there were some drawbacks concerning making and receiving online payments, until Epayments.com came to the stage.