Patents (IP)
Servicios La marca registrada es sin duda el activo más importante de una empresa o de un emprendedor y es mediante el registro de marcas que se puede obstaculizar los intentos de aquellos competidores desleales que utilicen signos distintivos idénticos o similares. Todo lo que se haga desde el punto de vista de la publicidad o el desarrollo del producto o servicio resulta insuficiente al no tener la marca registrada desde el inicio del emprendimiento en la o las clases que corresponda, por ello lo asesoramos no importando si se trata de un comercio, una microempresa, una PYME o una gran corporación, en el proceso de registrar una marca comercial en Chile, su defensa y/o protección, con profesionalismo y el máximo nivel en confidencialidad.
Registro de Marcas. Defensa de Nombres de dominio en Chile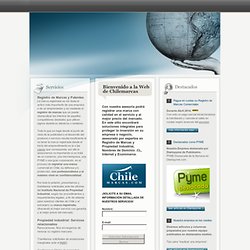 Intelectual Property
Welcome
Green Patent Blog®
GLA McKenzie Long & Hugeo announced today the opening of an Antarctica office. The new office is the firm's 683rd location, following yesterday's opening of an outpost in the Kufra basin and oasis group in the Sahara desert. GLA is the first law firm to open an office in Antarctica. Located in the prestigious Coats Land region of East Antarctica, the office will provide the firm's clients and staff with easy access to the Shackleton Range, the Filchner Ice Shelf, and of course, the South Pole.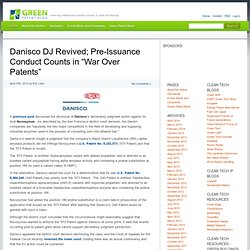 Intellectual Property (IP)
Disclaimer: the views expressed in this column are solely those of the authors and are not associated with Intellectual Property Watch. IP-Watch expressly disclaims and refuses any responsibility or liability for the content, style or form of any posts made to this forum, which remain solely the responsibility of their authors. Par Cheikh Kane Une analyse des pratiques et des politiques impliquant la propriété intellectuelle, le transfert de technologie et le développement démontre la difficulté à parvenir à une corrélation positive entre les différents domaines. [Note: an English version of this piece has been posted here.]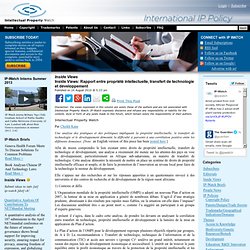 Rapport entre propriété intellectuelle, transfert de technologie et développement
IPR-Helpdesk - Innovaccess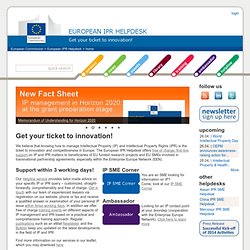 You are an SME looking for information on IP? Come, look at our IP SME Corner where we have gathered a broad range of different publications all dealing with IP issues frequently faced by SMEs – in research projects or in business. Looking for an IP contact point at your doorstep? In cooperation with the Enterprise Europe Network we have set up a network of EU IPR Helpdesk Ambassadors at regional level all over Europe. Learn more about the cooperation scheme and our current team of ambassadors here.