Patents (IP)
Servicios
Auction. Estrategia ip. Valorizar IP. Registro de Marcas. Defensa de Nombres de dominio en Chile. Intelectual Property. Welcome. Green Patent Blog® IP & Software. IP & Legal. Intellectual Property (IP) Oficinas de Patentes. Rapport entre propriété intellectuelle, transfert de technologie et développement. Disclaimer: the views expressed in this column are solely those of the authors and are not associated with Intellectual Property Watch.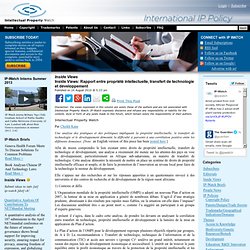 IP-Watch expressly disclaims and refuses any responsibility or liability for the content, style or form of any posts made to this forum, which remain solely the responsibility of their authors. Par Cheikh Kane Une analyse des pratiques et des politiques impliquant la propriété intellectuelle, le transfert de technologie et le développement démontre la difficulté à parvenir à une corrélation positive entre les différents domaines.
[Note: an English version of this piece has been posted here.] IPR-Helpdesk - Innovaccess.
---