E Recipes
Rainbow Jelly. This rainbow jelly is suitable for any party.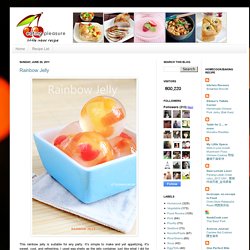 It's simple to make and yet appetizing. It's sweet, cool, and refreshing. I used egg shells as the jelly container, just like what I did for the dragon fruit jelly. Rainbow Jelly. Cuban Sliders (And 10 Summer Entertaining Tips I Learned the Hard Way) 1.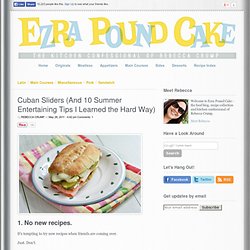 No new recipes. It's tempting to try new recipes when friends are coming over. Just. Healthy Comfort Food Recipes and Menus. Five Spice Chicken Stir Fry. This is a quick and easy recipe for how to make five spice chicken stir fry.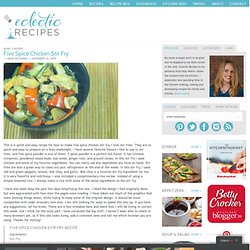 I love stir fries. They are so quick and easy to prepare on a busy weeknight. I have several favorite flavors I like to use in stir fries, and five spice powder is one of them. 5 spice powder is a perfect fall flavor. It has Chinese cinnamon, powdered cassia buds, star anise, ginger root, and ground cloves. In this stir fry I used chicken and some of my favorite vegetables. April | 2011 | How to Make A Healthy Chinese Chicken Salad. Beer Braised Chicken Tacos with IPA Avocado Cream and Beer Corn Tortillas Let's be honest.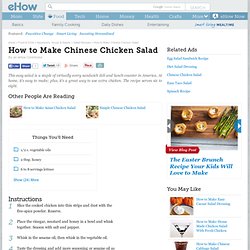 In America we tend to celebrate Cinco de Mayo the same way we celebrate St. Patricks day: with friends, beer and an incomplete understanding of another nation's holiday. I might not be able to help you with … Oven baked beignets. Happy Mardis Gras day!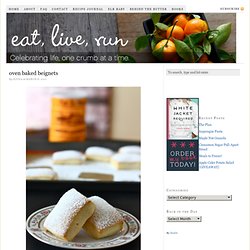 Even though I'm not from New Orleans, growing up in the South we always did a little something special on Mardis Gras day. That something special ranged from making beignets and watching Muzzy in high school French class to wearing beads and drinking beer in college. And you know what? Over the years, I've discovered that I much prefer dessert over beer. Especially beignets! Tyler Florence's Chicken Pot Pie. You can't go wrong with classic, humble, and very homey dish like this delicious chicken pot pie.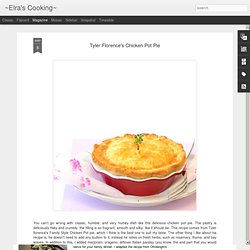 The pastry is deliciously flaky and crumbly, the filling is so fragrant, smooth and silky, like it should be. This recipe comes from Tyler florence's Family Style Chicken Pot pie, which I think is the best one to suit my taste. The other thing I like about his recipe is, he doesn't need to add any buillion to it, instead he relies on fresh herbs, such as rosemary, thyme, and bay leaves. In addition to this, I added marjoram, orageno, leftover Italian parsley (you know, the end part that you would normally throw in the garbage).
Homemade chocolate covered mint oreos. Hello.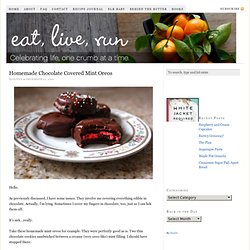 As previously discussed, I have some issues. They involve me covering everything edible in chocolate. Actually, I'm lying. Sirloin Sliders with Crisp Bacon and Creamy Horseradish Mayo. Wednesday night, as I was getting ready for bed, I took off my shirt and noticed a dried smear of reddish-brown running down the middle of my chest.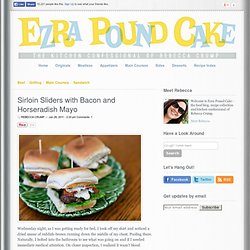 Pooling there. Naturally, I bolted into the bathroom to see what was going on and if I needed immediate medical attention. On closer inspection, I realized it wasn't blood. I'd dropped a chipotle pepper in adobo sauce into my sports bra. Cinnamon Crepes with Spiced Pumpkin Mousse and Graham Crumble | Evil Shenanigans - Baking & Cooking Blog. When Casey from Tastestopping approached me about participating in the November Kitchen Play event, how could I say no?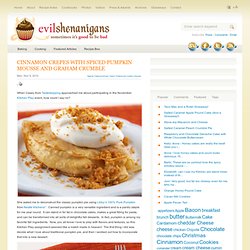 She asked me to deconstruct the classic pumpkin pie using Libby's 100% Pure Pumpkin from Nestlé Kitchens*. Canned pumpkin is a very versatile ingredient and is a pantry staple for me year round. It can stand in for fat in chocolate cakes, makes a great filling for pasta, and can be transformed into all sorts of delightful fall desserts. In fact, pumpkin is among my favorite fall ingredients.
Naan bread – easier than you think. Naan bread (adapted from Mark Bittman's How to Cook Everything ) 2 t instant yeast 2 T milk 2 T yogurt 1 T sugar 3 c all-purpose flour 1 c whole wheat flour 1 egg 1 1/2 c water 2 t salt canola oil, for the bowl 4 T butter 1 clove garlic, minced 2 T sesame seeds (black or white) Stir together the yeast, milk, yogurt and sugar and set aside.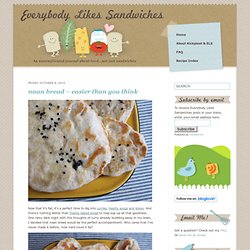 In another large bowl, combine the flours, egg, and salt together, mixing well with a wooden spoon. Stir in the yeast mixture until combined and start adding in the water a little at a time until the dough forms into a slightly sticky ball. Pecan Honey Sticky Buns. You Need These In Your Life. So, way back when Tuesdays with Dorie made Brioche Raisin Snails, I used the other half of the dough to make this week's recipe: Pecan Honey Sticky Buns. If you don't make another thing you ever see on this site, make these.
Baptized in honey. Christened with pecans. Project Food Blog Entry: Butternut Squash Enchiladas with Red Molè. Project Food Blog Entry: Schweinshaxe, Spätzle und Rotkohl (Pork Knuckle, Spaetzle, and Red Cabbage) Project Food Blog Entry: Chicken Chipotle Sushi (aka The EOTC Roll) Project Food Blog Entry: PFB Challenge #2: A Royal Asian Meal. Easy Eastern European Recipes - Easy Recipes for Eastern European Dishes. Eastern European food has two sides -- traditional, Old World recipes reminiscent of the glory days of the aristocracy, and hearty and delicious comfort food designed to fill the ravenous appetites of hard-working farmers. But Old World recipes and easy recipes are not mutually exclusive.
Many traditional recipes can be whipped up very quickly. This is a presentation of the easier recipes, from time, ingredient and number of steps standpoint, from the culinary repertoire of Bulgaria, Czech Republic, Croatia, Hungary, Lithuania, Poland, Romania, Russia, Serbia, Slovakia, Slovenia and Ukraine. Easy Appetizer Recipes. How to Make a Real, Authentic Ponzu Sauce. Protein-Loaded Sweet Potato and Oatmeal Mini-Casserole We've all heard it before – "breakfast is the most important meal of the day." But for me, morning is also one of the busiest times of the day. Admittedly, I wake up as late as possible, so I end …
---