Idealement
Idealement
FNAIM - Immobilier - Paris - Ile-de-France - Annonces - agences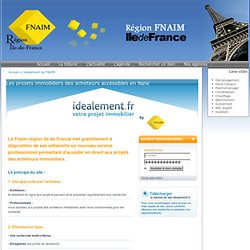 Accueil > Idealement by FNAIM Les projets immobiliers des acheteurs accessibles en ligne La Fnaim région Ile de France met gratuitement à disposition de ses adhérents un nouveau service professionnel permettant d'accéder en direct aux projets des acheteurs immobiliers.
Extranet FNAIM
Votre projet d'achat accessible à tous les professionnels de l'i
Les informations recueillies liées à votre projet immobilier sont destinées aux professionnels exerçant dans le secteur de l'immobilier afin qu'ils puissent répondre à votre recherche idéale. Aussi, vous autorisez IDEALEMENT à transmettre les détails de votre recherche afin que les professionnels puissent y répondre et vous contacter directement. Ces informations sont couvertes par la loi du 6 janvier 1978, relatives à l'informatique et aux libertés. Vous disposez en conséquence du droit individuel d'accès et de rectification que cette loi vous reconnaît. Vous pouvez effectuer toutes les rectifications directement sur ce site en étant connecter à votre compte ou bien en vous adressant à IDEALEMENT, 14 avenue de l'Opéra, 75001 Paris, tél : 01 46 03 85 31, mail : contact@idealement.fr.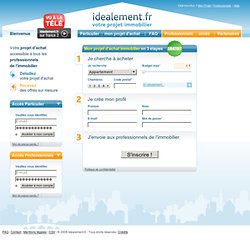 By now, you may have read that The Linux Foundation, with the support of several other companies, announced a new project, Tizen, to build a new operating system for devices. This new project is first and foremost open source, and based on Linux. So it begs the question: why not just evolve MeeGo? We believe the future belongs to HTML5-based applications, outside of a relatively small percentage of apps, and we are firmly convinced that our investment needs to shift toward HTML5. Shifting to HTML5 doesn't just mean slapping a web runtime on an existing Linux, even one aimed at mobile, as MeeGo has been.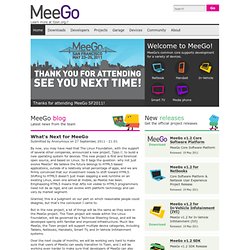 Le Business Club Prestige MLS réunit dans chaque grande ville européenne, les meilleurs acteurs du marché de l'immobilier de Prestige, et rassemble à ce jour plus de 70 agences immobilières en France, Italie, Espagne, Suisse, Angleterre, Ecosse. .. Parmi elles, des agences de renommées internationales telles que l'agence Carlton International à Antibes, Haussman Real Estate à Nice, l'agence Varenne à Paris, Rettie en Ecosse, La commerciale à Rome, Giorgio Vigano Real Estate à Milan, Bory Immobilier à Genève ou bien encore PlazaEstate à Londres… Le Business Club Prestige MLS organisera le 22 et 23 avril prochain à l'hôtel Fairmont à Monaco, le MLS Luxury Real Estate Congress, premier événement de ce type en Europe.
Le 1er MLS Luxury Real Estate aura lieu à Monaco le 22 et 23 avr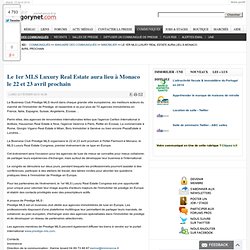 Reportage IDEALEMENT - une vidéo Vie pratique