To Try
Vegetarian Recipes. There are a number of ethical and environmental reasons why someone might want to live a vegetarian lifestyle.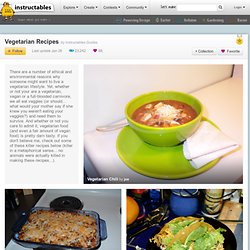 Yet, whether or not your are a vegetarian, vegan or a full-blooded carnivore, we all eat veggies (or should... what would your mother say if she knew you weren't eating your veggies?) And need them to survive. And whether or not you care to admit it, vegetarian food (and even a fair amount of vegan food) is pretty darn tasty. The Best Vegan Macaroni And Cheese Ever Recipe - Food.com - 180878. Spaghetti Squash I Recipe.
Vegan Marshmallows. Every time I bake something my girlfriend requests that I make it vegan.
I usually just scoff at her and remark that "You're not even vegan! I don't think you're even vegetarian. No! " How to make Tofu.
---