Solar
How to make solar cells, junk PV solar cells back to life, no soldering points. Solar Laptop Charger & Portable Power Kit 300 Watt - 12 Watt Solar Panel: Everything Else. Free DIY Solar Manual.pdf (application/pdf Object) Morningstar ProStar 15 Amp PWM Charge Controller 12V /24V: Patio, Lawn & Garden. 5-in-1 Portable Power Pack.
Charge Controller: Battery Stores Excess Solar Energy : DIY Solar-Powered PC: Solar Components. To make sue our PC and monitor always have sufficient power, we must use a charge controller.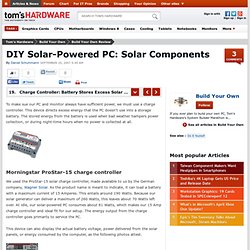 This device directs excess energy that the PC doesn't use into a storage battery. The stored energy from the battery is used when bad weather hampers power collection, or during night-time hours when no power is collected at all. Morningstar ProStar-15 charge controller We used the ProStar-15 solar charge controller, made available to us by the German company, Wagner Solar. As the product name is meant to indicate, it can load a battery with a maximum current of 15 Amperes. Easy To Install Solar Panels Are City Friendly and Affordable.
Solar start-up Veranda Solar wants to change the world of solar power the way Apple changed computers.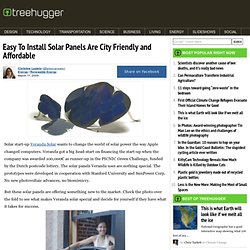 Veranda got a big head-start on financing the start-up when the company was awarded 100,000€ as runner-up in the PICNIC Green Challenge, funded by the Dutch postcode lottery. The solar panels Veranda uses are nothing special. The prototypes were developed in cooperation with Stanford University and SunPower Corp. Super-easy solar panels hang out your window. I think I can safely say that we all wouldn't mind getting a little greener in our everyday lives, but one of the most obvious steps — going solar — is simply impractical for people of limited means like myself.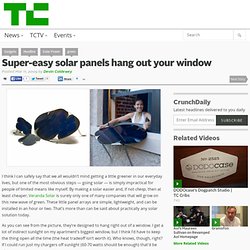 By making a solar easier and, if not cheap, then at least cheaper, Veranda Solar is surely only one of many companies that will grow on this new wave of green. These little panel arrays are simple, lightweight, and can be installed in an hour or two. That's more than can be said about practically any solar solution today. As you can see from the picture, they're designed to hang right out of a window. I get a lot of indirect sunlight on my apartment's biggest window, but I think I'd have to keep the thing open all the time (the heat tradeoff isn't worth it).
---