Liveusb
UNetbootin - Homepage and Downloads. PPA for probono. Ubuntu Live USB. Downloaded Ubuntu iso?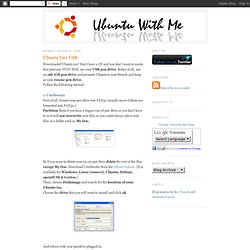 Don't have a CD and you don't want to waste that precious DVD? Well, use your USB pen drive. Better of all, use an old 1GB pen drive and promote Ubuntu to your friends and keep as your rescue pen drive.Follow the following tutorial: 1. Ubuntu Live USB - Edoceo, Inc. How to make a USB flash drive function as a Ubuntu (or Kubuntu, Xubuntu, Edubuntu) Live CD.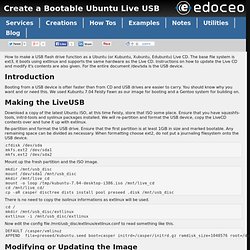 The base file system is ext3, it boots using extlinux and supports the same hardware as the Live CD. Instructions on how to update the Live CD and modify it's contents are also given. For the entire document /dev/sda is the USB device. Introduction Booting from a USB device is ofter faster than from CD and USB drives are easier to carry. The ubuntu liveusb creator!!! [ Screenshot | Download | Issues | Author ] This is a tool to create a bootable Live USB stick from the running Ubuntu Live CD.
It was made in response to Ubuntu Brainstorm idea #16. It performs the following actions: Detects available USB sticks (using HAL) and asks user which one to usePartitions USB stick with 1 partitionSets partition bootableWrites MBR to USB stickFormats partition FAT16Installs bootloader (syslinux) to partitionWrites bootloader configuration fileCopies necessary files from running Live CD to USB stickSets language and keyboard of USB Live system to match running Live CDOptionally: Downloads and integrates Adobe Flash Player Screenshot.
Liveusb site. Live usb install. Create a Ubuntu 8.04.3 Persistent USB Flash Drive via the Live CD.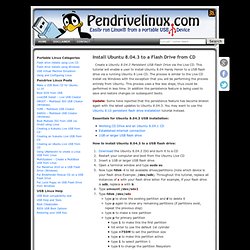 This tutorial will enable a user to install Ubuntu 8.04 Hardy Heron to a USB flash drive via a running Ubuntu 8 Live CD. The process is similar to the Live CD install via Windows with the exception that you will be performing the process entirely from Ubuntu. This process uses a few less steps, thus could be performed in less time. In addition the persistence feature is being used to save and restore changes on subsequent boots. Update: Some have reported that the persistence feature has become broken again with the latest updates to Ubuntu 8.04.3.
---