Inspiring
Beautiful Wood Insertions in a Modern Home's Interior Design. Italian architecture company Studiota transformed a residential space into a stunning contemporary home.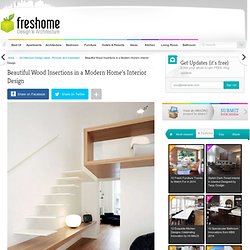 The House Studio residential project covers 915 square feet – enough space for all the necessary facilities to be carefully reconfigured into more inviting and modern spaces. Located near Piazza Castello, on Via Bertola in Turin, Italy, the residential project features a bold and soothing combination of wooden floors and wood volumes shaping the interior design. Reconstructed with a budget of €80,000, the House Studio features living spaces on the east side, while the nighttime invites owners and guests to the west area, where the bedroom is. A thick wall stands between the two volumes of the house, separating them into the private and the social zones. PIXERS: Your Walls & Stuff. - StumbleUpon. (click images for detail) For the better part of three decades multidisciplinary artist Guy Laramee has worked as a stage writer, director, composer, a fabricator of musical instruments, a singer, sculptor, painter and writer.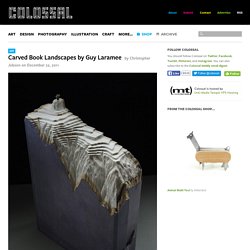 Among his sculptural works are two incredible series of carved book landscapes and structures entitled Biblios and The Great Wall, where the dense pages of old books are excavated to reveal serene mountains, plateaus, and ancient structures. Of these works he says: So I carve landscapes out of books and I paint Romantic landscapes. Mountains of disused knowledge return to what they really are: mountains. Creative Recycling Of light Bulb into Valuable Things | Weird Pictures, Wonderful Things - StumbleUpon.
When a light bulb burns out, we rarely give it a second thought.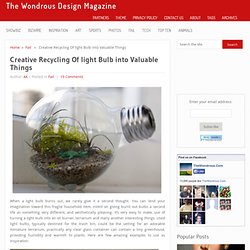 You can lend your imagination toward this fragile household item, intent on giving burnt out bulbs a second life as something very different, and aesthetically pleasing. It's very easy to make, use of turning a light bulb into an oil burner, terrarium and many another interesting things. Used light bulbs, typically destined for the trash bin, could be the setting for an adorable miniature terrarium, practically any clear glass container can contain a tiny greenhouse, providing humidity and warmth to plants. Here are few amazing examples to use as inspiration. The Chromatic Typewriter.
---