Santiago
Let's describe the whole world! ProviArte. El instituto Cultural de Providencia le invita a visitar durante todo el año, y preferentemente durante este verano, el Museo Parque de las Esculturas, la principal atracción de arte permanente al aire libre de Santiago, un lugar de acceso gratuito, protegido, con guardia permanente y apto para niños de todas las edades.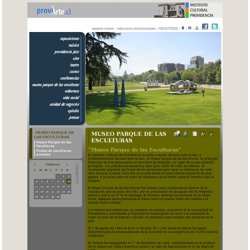 Se recomienda imprimir las fichas de las esculturas para tener la referencia de cada obra durante la visita. Para ello se accede desde el menú lateral izquierdo de esta página y se pulsa sobre el icono de impresora en el borde superior derecho bajo la imagen. El Museo Parque de las Esculturas fue creado como consecuencia directa de la inundación que en junio de 1982, por el crecimiento de las aguas del río Mapocho, afectó a casi a un 70 % de Santiago. Teatro Municipal de Santiago. Mercado Central. MUSEO CHILENO DE ARTE PRECOLOMBINO. MUSEO NACIONAL DE BELLAS ARTES. Museo de la Moda. Fundación Pablo Neruda. Farmacias Ahumada. Farmacias Cruz Verde. Pueblito Los Dominicos. Feria Chilena del Libro - Resultados de la búsqueda para: 'walter isaacson' Portal Chileno do Turismo. Servicio Nacional de Turismo Chile - Sernatur. :::Restaurant Como Agua para Chocolate::: Tiramisú. Aqui Esta Coco. Parque Arauco - Parque Arauco.
Home Chile - Casaideas. » Chile – Futilish.com. Tô devendo dicas chilensis né?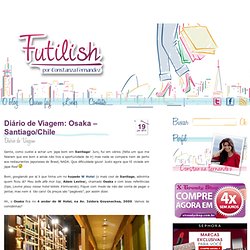 Das lojas nem tenho muito o que falar, não sei se é efeito de pão durismo ou do eBay, mas não acho as coisas tão baratas quanto antigamente. Tá certo que ainda não mergulhei em nenhuma liquidação, mas logo que voltar para Santiago (no momento estou na praia) vou dar uma olhada com carinho no shopping. Só sei que a Zara tá ruim rs. Santiago Hop on / Hop off | City Tours Santiago / Hop on – Hop off.
Discover Santiago in a flexible and fun way!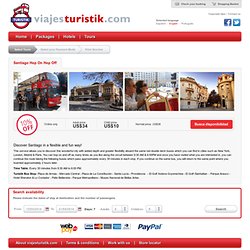 This service allows you to discover this wonderful city with added depth and greater flexibility aboard the same red double deck buses which you can find in cities such as New York, London, Madrid & Paris. You can hop on and off as many times as you like along the circuit between 9:30 AM & 6:00PM and once you have visited what you are interested in, you can continue the route taking the following buses which pass approximately every 30 minutes in each stop.
If you continue on the same bus, you will return to the same point where you boarded approximately 2 hours later. Transfer Aeropuerto Santiago | Tansfer y Taxi hacia y desde el Aeropuerto | Transvip Chile. :::... Bernatour Chile Turismo Santiago City - Viajes Valparaiso - Turismo Viña Del Mar - Tours Pueblo Tipico Pomaire - Tours turismo Ski valle nevado ..:::: Tiempo Santiago.
---