Santiago
Let's describe the whole world!
http://viagem.decaonline.com/imgs/santiago%20turistel.cl.jpg
ProviArte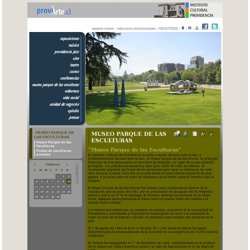 El instituto Cultural de Providencia le invita a visitar durante todo el año, y preferentemente durante este verano, el Museo Parque de las Esculturas, la principal atracción de arte permanente al aire libre de Santiago, un lugar de acceso gratuito, protegido, con guardia permanente y apto para niños de todas las edades.
Teatro Municipal de Santiago
Mercado Central
MUSEO CHILENO DE ARTE PRECOLOMBINO
MUSEO NACIONAL DE BELLAS ARTES
Museo de la Moda
Fundación Pablo Neruda
Farmacias Ahumada
Farmacias Cruz Verde
Pueblito Los Dominicos
Feria Chilena del Libro - Resultados de la búsqueda para: 'walter isaacson'
Portal Chileno do Turismo
Servicio Nacional de Turismo Chile - Sernatur
:::Restaurant Como Agua para Chocolate:::
Tiramisú
Aqui Esta Coco
Parque Arauco - Parque Arauco
Home Chile - Casaideas
Recomendo, MUITO.
» Chile – Futilish.com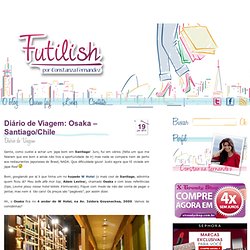 Discover Santiago in a flexible and fun way! This service allows you to discover this wonderful city with added depth and greater flexibility aboard the same red double deck buses which you can find in cities such as New York, London, Madrid & Paris. You can hop on and off as many times as you like along the circuit between 9:30 AM & 6:00PM and once you have visited what you are interested in, you can continue the route taking the following buses which pass approximately every 30 minutes in each stop. If you continue on the same bus, you will return to the same point where you boarded approximately 2 hours later.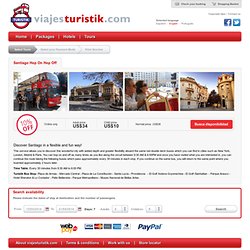 Santiago Hop on / Hop off | City Tours Santiago / Hop on – Hop off
Transfer Aeropuerto Santiago | Tansfer y Taxi hacia y desde el Aeropuerto | Transvip Chile
:::... Bernatour Chile Turismo Santiago City - Viajes Valparaiso - Turismo Viña Del Mar - Tours Pueblo Tipico Pomaire - Tours turismo Ski valle nevado ..::::
Tiempo Santiago