Español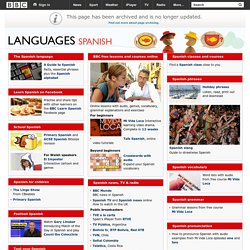 @import '/languages/includes/widgets/potd/css/potd.css'; @import '/languages/css/phase2/shared.css'; British Broadcasting Corporation Home Accessibility links This page hasn't been updated for a while.
Curso. Está organizado en cuatro niveles, cada uno con vídeos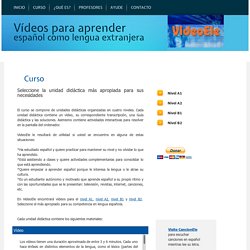 Los vídeos tienen una duración aproximada de entre 3 y 6 minutos. Cada uno hace énfasis en distintos elementos de la lengua, como el léxico (partes del cuerpo, tiendas, deportes...), funciones comunicativas (expresar gustos, expresar opiniones, dar información, hablar del tiempo atmosférico...), gramática (verbos irregulares, presente de subjuntivo...) o elementos culturales (la Navidad, actividades del ocio, el transporte en tren...) Observe con detenimiento las imágenes, porque reflejan escenas cotidianas así como numerosos elementos culturales presentes en el entorno de un país hispanohablante. Todos los vídeos se ofrecen con subtítulos en español y además, muchos subtítulos han sido traducidos al inglés, italiano y alemán. Puede activar o desactivar esta opción, y elegir el idioma, con el botón que aparece a la derecha de la barra del reproductor.
gram@clicando
SPANISH IN ARGENTINA ::
El Porqué de los dichos
In our course we emphasize all aspects of language learning from listening comprehension, rapid vocabulary expansion, exposure to Spanish grammar and common idiomatic expressions, to pronunciation practice and interactive grammar exercises. In our program we discuss the Weekly News, Spanish grammar, and Spanish expressions, and much more in simplified Spanish at a slow pace so that you can understand almost every word and sentence. Our Spanish Podcast and Spanish lessons published on our website contain hundreds of learning lessons from beginning to intermediate Spanish, so listen and most importantly read our interactive transcripts on our website and you will be surprised to discover that You know more Spanish than you think! With this tool you do not actually need to have an extensive vocabulary to start listening and reading our material. Your vocabulary will expand rapidly and naturally and your comprehension skills will also improve dramatically.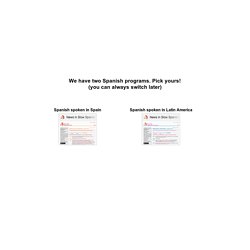 Eleena (voicesenespanol) on Twitter
Inicio - Diplomas de Español como Lengua Extranjera
Instituto Cervantes de Belo Horizonte.
El día E - la fiesta de todos los que hablamos español |
A próxima parada da série "Cidades da Espanha" é Zaragoza. Espero que gostem do texto e da narração. Se você recebe as dicas por email e não conseguiu visualizar o vídeo acima, clique aqui para assistir. ¡Hola!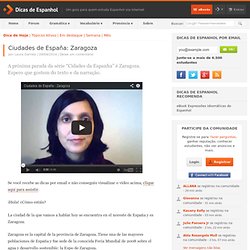 Dicas de Espanhol - Um guia para quem estuda espanhol por conta própria via Internet
Cody's Cuentos