Games
Get flash to fully experience Pearltrees
First we gave you five . Then we gave you ten . Now we are giving you 20 games that make you think about life. If you have developed a taste for games of a philosophical nature, then you should be in for a treat - we have some seriously innovative games here, everything from Elude, a game that explores the nature of depression, to Ulitsa Dimitrova, a tale about a street-urchin in Russia.
50 most addictive Flash based games at your own risk! Do you think that only cool PC or Mac or Sony PlayStation or whose ever games can be addictive? Than you know nothing about short and simple Flash based games! No, no, no! We are not trying to say that something is better and something is worse...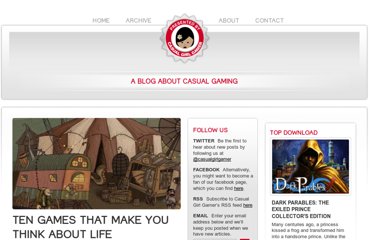 At the start of this year, we decided to come up with a list of Flash casual games with a philosophical bent. To be honest, we struggled. After days of research, we could only find a handful of games that had the thought-provoking depth we were looking for.