Zoos
:: wickED - The Zoo ::
Animal Educational Materials
Throughout the U.S. and around the world, school science materials developed by the Education Division of WCS are used by thousands of teachers and their students, from kindergarten to 12th grade. Education Division materials have won awards from leading and prestigious organizations such as the U.S. Department of Education, the Association of Educational Publishers, and the Association of Zoos and Aquariums. You do not need to be near a zoo or aquarium to benefit from these resources; they are used in schools and zoos in all 50 U.S. states and more than a dozen nations around the world. The Education Division also provides professional development courses both on-site and online, which include comprehensive instructional materials for the classroom. All are highly motivating and consistent with national goals for improvement of science literacy.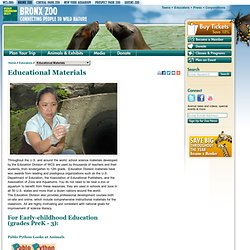 Welcome to Auckland Zoo, New Zealand
Endangered Animals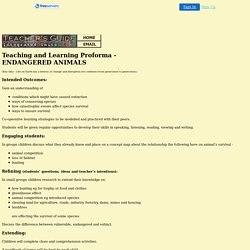 Would you like to make this site your homepage? It's fast and easy... Yes, Please make this my home page! Don't show this to me again.
The Electronic Zoo
Tropical Zoo, educational tours, Belize!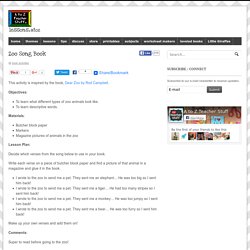 A to Z Lesson Plans Zoo Song Book
This activity is inspired by the book, Dear Zoo by Rod Campbell . Objectives : To learn what different types of zoo animals look like.
Saint Louis Zoo
Physics at the Zoo Peter Insley Retired Objective : The idea is to try to answer some physics questions at the zoo. The teacher can adjust the level of these questions to almost any grade, or just skip questions that are inappropriate. No materials or apparatus is necessary.
Physics at the Zoo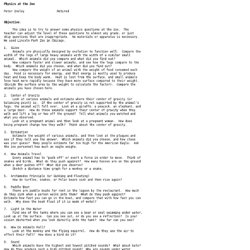 ZOOCHECK NEW ZEALAND
Marwell Zoo - Hampshire UK - One of Englands leading Zoos!
Education Center Activity On the Farm or at the Zoo
Welcome to the Los Angeles Zoo
Lincoln Park Zoo
WhoZoo Welcome Page
Oakland Zoo Entrance copy 1
Focus.on.the.Zoo.html
Exploring.the.Zoo.html