Scary
Are You Ready? An In-depth Guide to Citizen Preparedness (IS-22) is FEMA's most comprehensive source on individual, family and community preparedness. The guide has been revised, updated and enhanced in August 2004 to provide the public with the most current and up-to-date disaster preparedness information available. Are You Ready?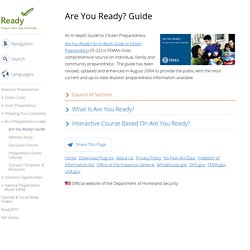 Are You Ready?
KDN: Kids Design Network at the DuPage Children's Museum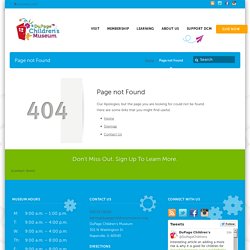 Page Not Found! Unfortunately the page you were looking for could not be found, it might have been removed, had its name changed, or is temporarily unavailable. We apologize for the inconvenience.
Bermuda Triangle- Easier Reading
Unsolved Mysteries Unit Plan [English Online]
Bermuda Triangle Integrated Unit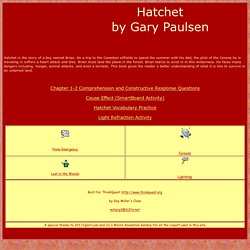 Hatchet
Hatchet is the story of a boy named Brian. On a trip to the Canadian oilfields to spend the summer with his dad, the pilot of the Cessna he is traveling in suffers a heart attack and dies. Brian must land the plane in the forest. Brian learns to exist in in this wilderness. He faces many dangers including hunger, animal attacks, and even a tornado. This book gives the reader a better understanding of what it is like to survive in an untamed land.
Mystery Level 2-4
Mysterious_Unexplained Level 2-4
What's the Problem Unit Plan [English Online]
Survival of the Fittest Unit Plan [English Online]
Monsters Integrated Unit
The Haunted House Unit Plan [English Online]
Stay Alive
Risks and Challenges Unit Plan [English Online]
http://www.unmuseum.org/triangle.htm
The Bermuda Triangle (sometimes also referred to as the Devil's Triangle) is a stretch of the Atlantic Ocean bordered by a line from Florida to the islands of Bermuda, to Puerto Rico and then back to Florida. It is one of the biggest mysteries of our time - that perhaps isn't really a mystery. The term "Bermuda Triangle" was first used in an article written by Vincent H. Gaddis for Argosy magazine in 1964. In the article, Gaddis claimed that in this strange sea a number of ships and planes had disappeared without explanation.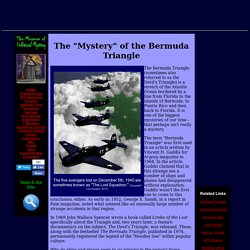 Born May 17, 1939, Gary Paulsen is one of America's most popular writers for young people. Although he was never a dedicated student, Paulsen developed a passion for reading at an early age. After a librarian gave him a book to read — along with his own library card — he was hooked. He began spending hours alone in the basement of his apartment building, reading one book after another. Running away from home at the age of 14 and traveling with a carnival, Paulsen acquired a taste for adventure. A youthful summer of rigorous chores on a farm; jobs as an engineer, construction worker, ranch hand, truck driver, and sailor; and two rounds of the 1,180-mile Alaskan dog sled race, the Iditarod; have provided ample material from which he creates his powerful stories.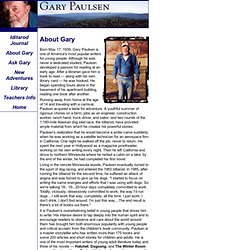 Gary Paulsen Info
Bermuda Triangle Mystery - Your online source -