Rowing
The history of rowing is the tale of one of the oldest sports in the world. What began as a method of transport and warfare, eventually became a sport with a wide following, and a part of the cultural identity of the English speaking world.
History of rowing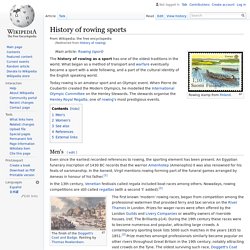 INTERNATIONAL OLYMPIC COMMITTEE - SPORTS
Birth of an Olympic rowing tradition | NZHistory.net.nz, New Zealand history online
The New Zealand Olympic team en route to Antwerp in 1920.