Rowing
History of rowing. The history of rowing is the tale of one of the oldest sports in the world.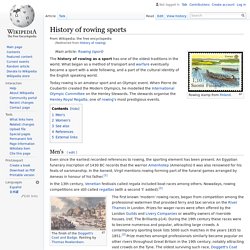 What began as a method of transport and warfare, eventually became a sport with a wide following, and a part of the cultural identity of the English speaking world. Men's[edit] Even since the earliest recorded references to rowing, the sporting element has been present. An Egyptian funerary inscription of 1430 BC records that the warrior Amenhotep (Amenophis) II was also renowned for his feats of oarsmanship. In the Aeneid, Virgil mentions rowing forming part of the funeral games arranged by Aeneas in honour of his father.[1] INTERNATIONAL OLYMPIC COMMITTEE - SPORTS. Birth of an Olympic rowing tradition | NZHistory.net.nz, New Zealand history online. The New Zealand Olympic team en route to Antwerp in 1920.
Rower Darcy Hadfield sits at bottom right. Violet Walrond, our first female Olympian, stands between her father Tui (in the white pants) and George Davidson, with Harry Wilson at bottom left. The 1920 team Several New Zealand athletes competed – and won medals – as part of 'Australasian' teams at the 1908 and 1912 Olympics.
---