Reading
Online Texts Collection. IPL -- Arts and Humanities -- Literature -- Online Texts26 resources KnowledgeRush Book Directory Large directory of popular literary works and historical documents available on the Web.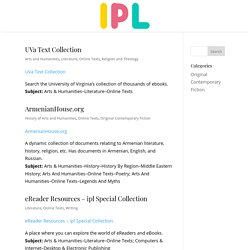 Reading Comprehension - Free Worksheets. Home- English- Math - Reading - Research - Keys - Blog - Links - Contact Reading Comprehension, Volume 5: Number 32, Word Meanings From Context.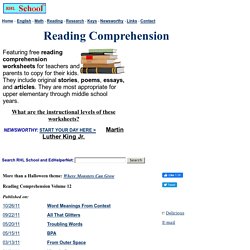 KIDS READ KIDS KORNER AND TODDLER TALES. Bookmarks to print out. On-Line Books. The Online Books Page. Listing over 1 million free books on the Web - Updated Friday, April 25, 2014 Search our Listings -- New Listings -- Authors -- Titles -- Subjects -- Serials A public domain metadata gift for our 20th birthday -- Blog (Everybody's Libraries) -- Latest Book Listings.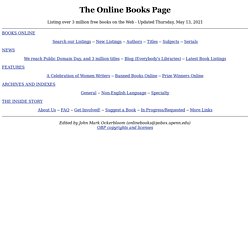 Alex Catalogue of Electronic Texts. Classic Children's Stories. Bricks and Mortar basic reading skills - index ... from Project HappyChild. Children's Picture Book Database at Miami University. Children's Storybooks Online. Welcome to MightyBook.com where kids can hear great stories. International Reading Association Home. Shape Books. Reading Comprehension. Abcteach features over 1,000 multi-page reading comprehension activities.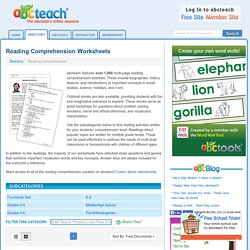 These include biographies, history lessons, and introductions to important concepts in social studies, science, holidays, and more. Fictional stories are also available, providing students with fun and imaginative scenarios to explore. These stories serve as great backdrops for questions about problem solving, emotions, moral and ethical dilemmas, and vocabulary interpretation. Use the subcategories below to find reading activities written for your students' comprehension level. The Partnership for Reading- Reading Research. Partnership for Reading publications are available for download on the Publications page .
The Partnership for Reading was a collaborative effort by three federal agencies - the National Institute for Literacy (NIFL), the National Institute of Child Health and Human Development (NICHD), and the U.S. Department of Education - to bring the findings of evidence-based reading research to the educational community, families, and others with an interest in helping all people learn to read well.
First established in 2000, The Partnership was authorized by the No Child Left Behind Act of 2001 (P.L. 107-110). Skimming and Scanning. Reading Planet for Kids.
---