Penguins
A unique collection of thousands of videos, images and fact-files illustrating the world's species. Endangered Species Theme. Endangered Species Theme Page This "Theme Page" has links to two types of resources related to the study of endangered species.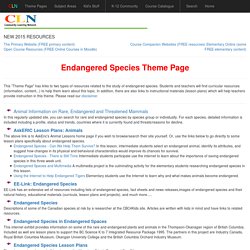 Students and teachers will find curricular resources (information, content...) to help them learn about this topic. In addition, there are also links to instructional materials (lesson plans) which will help teachers provide instruction in this theme. Endangered Species Field Trip Intro. Although endangered species refers to both the plant and animal kingdoms, this field trip's focus is endangered animals.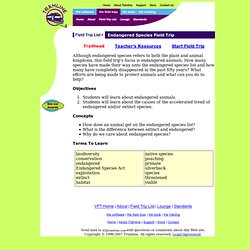 How many species have made their way onto the endangered species list and how many have completely disappeared in the past fifty years? What efforts are being made to protect animals and what can you do to help? Objectives Students will learn about endangered animals. Puffins Theme Unit Table of Contents. Endangered Species Theme Unit Table of Contents. Penguins Parade Thematic Unit.
---