Ideas 3
PBS Online. Busy Teachers. The Ideabank. Fools and Tricksters in Literature Unit [Eng Online] Water the Elixir of Life Thematic Unit. Wicked Whacky Weather Thematic Unit. DiscoverySchool.Com. WNET - wNetSchool. Rich educational content for use at home, in classrooms and on the go.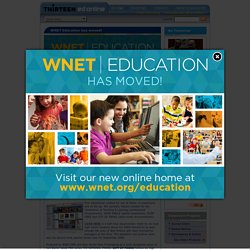 We currently feature content for the Celebration of Teaching & Learning (professional development), WIDE ANGLE (global awareness), OVER HERE and CITY OF PARKS (teen-made documentaries). OVER HERE is a half-hour documentary made by six local high school students about the WWII homefront as seen through the eyes of New Yorkers who were themselves teenagers at the time. This delightful and positive work was the second most popular itunes view for September 2008. Produced by WNET.ORG and Reel Works Teen Filmmaking as a local companion piece to Ken Burns' latest PBS series THE NATIONAL PARKS, CITY OF PARKS follows six high school auteurs as they seek out the often overlooked beauty and history of New York City's National Parks and Monuments. We will be expanding our growing ipod downloads list soon. Welcome to Classroom Connect. Can Teach. What will the Weather be Thematic Unit. Gigglepotz - Teaching and Learning for Life. The Lesson Plans Page - Over 1,000 FREE Lesson Plans!
Schoolsnet. Opening Page. Teachable Moment - free lesson plans and topical activities for k - 12. Jump to Navigation Teachable Moment Classroom Lessons Share on facebookFacebook Share on twitterTwitter Donate Classroom Lessons.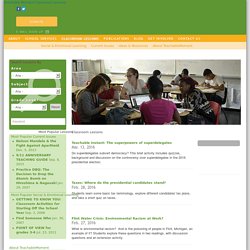 Legends in Time Integrated Unit. Severe Weather Unit.
---