History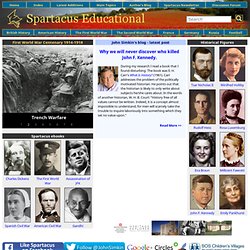 In September, 1997, Spartacus Educational founder and managing director John Simkin became the first educational publisher in Britain to establish a website that was willing to provide teachers and students with free educational materials. According to a survey carried out by the Fischer Trust, Spartacus Educational is one of the top three websites used by history teachers and students in Britain (the other two are BBC History and the Public Record Office's Learning Curve). The Spartacus Educational website currently gets up to 7 million page impressions a month and 3 million unique visitors.
s Archaeology Related Resources on the World Wide Web
This Day in History
douglas henderson's earth history illustrations - viewing!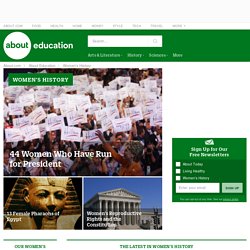 Ernestine Rose, an early feminist who fought for economic rights for married women (who had few before that), has sometimes been called the first Jewish feminist. She was born January 13, 1810. Read more about her: Ernestine Rose Ten thousand workers in textile mills in Lawrence, Massachusetts, walked off the job on January 12, 1912, to protest a pay cut which the owners implemented when the legislature cut the number of hours women could work.
Intro The Roosevelts PBS THE ROOSEVELTS: AN INTIMATE HISTORY chronicles the lives of Theodore, Franklin and Eleanor Roosevelt, three members of the most prominent and influential family in American politics.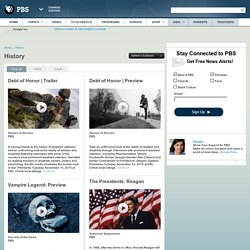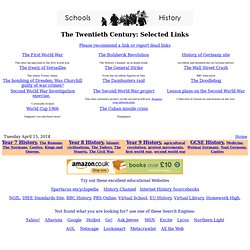 Please recommend a link or report dead links Try out these excellent educational Websites Spartacus encyclopedia History Channel Internet History Sourcebooks
Twentieth Century World Links
History Timelines on the Web ... The History Beat
The Latest Featured Web Sites in our History 101 Web Site Directory Warning: DOMDocument::load() [domdocument.load]: Input is not proper UTF-8, indicate encoding ! Bytes: 0xFC 0x73 0x74 0x65 in http://www.searchbeat.com/history101/tiki-directories_rss.php?ver=5, line: 29 in /home/keithco/public_html/society/History/commonlib.php on line 128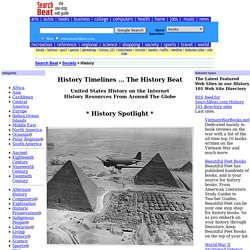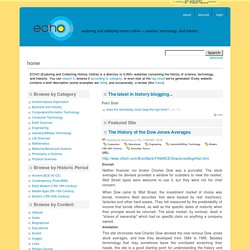 It is the most sickening sight of the war, this tide of wounded flowing back. One has a shattered arm, and the sling in which he carries it is the same bloody rag the surgeon gave him the day of battle; another has his head seamed and bandaged so you can scarcely see it, and he weaves like a drunken man as he drags along through the hot sun; another has his shoe cut off, and a great roll of rags around his foot, and he leans heavily on a rough cane broken from a pine tree; another breathes painfully and holds his hand to his side, where you see a ragged rent in his blouse; another sits by a puddle, dipping water on a wounded leg, which , for want of dressing since the battle, had become inflamed; another lies on a plot of grass by the roadside, with his browned face turned full to the sun, and he sleeps. - Dr. William Morton Welcome. This is a small web site dedicated to the medical side of the American Civil War.
HistoryWired A few of our favorite things
s History Resources on the World Wide Web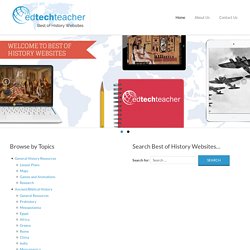 Best of History Web Sites, created by EdTechTeacher Inc, is an award-winning portal that contains annotated links to over 1200 history web sites as well as links to hundreds of quality K-12 history lesson plans, history teacher guides, history activities, history games, history quizzes, and more. Best of History Web Sites has been recommended by The Chronicle of Higher Education, The National Council for the Social Studies, The New York Public Library, the BBC, Princeton University, -- and many others. EdTechTeacher Learning Futures Summit Join educators from around the world at Chicago's Navy Pier, July 28-30, 2014, for three days of workshops and conference sessions dedicated to exploring the future of learning. We have an incredible line-up of keynote speakers and featured presenters including Will Richardson, Jennie Magiera, Wes Fryer, Richard Byrne, Sylvia Martinez, and members of the EdTechTeacher Team. Early Bird Registration and the Call for Proposals are now OPEN!
European History
Women In World History Curriculum
旅行中にお金が無くなってキャッシングを用いた山室 先日単独で1週間ほどカナダ旅行へいったときのことです。 この日のために貯めた貯金を全額おろし気合を入れて飛行機に乗り込みました。 飛行機の中で旅行雑誌を広げて作戦を練り、興奮して眠るのを忘れてしまうほどでした。 現地についてからは、ナイアガラの滝をみて癒され、美味しいごはんを堪能したりと充実した数日を送りました。 そして買い物日として決めていた最終日に朝から町へ出かけました。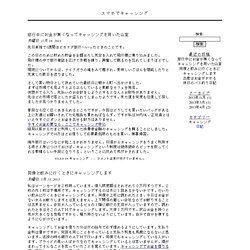 Wolverhampton Grammar School interactive history quizzes games (KS3 K12 GCSE)
Welcome to Schoolshistory.org.uk Parts of this site have recently been redeveloped. Students will find the GCSE sections easier to navigate and the whole of the teachers section has been redesigned to make the full range of resources more accessible. CPD, Inset and Consultancy for History Teachers and the Heritage Sector SchoolsHistory has 15 years experience of providing CPD to teachers.
SchoolsHistory - Online History lessons, resources and activities for students