FAT
If I Ruled The World - Home
Bendigo Senior Secondary College - De-Bono
The Question Mark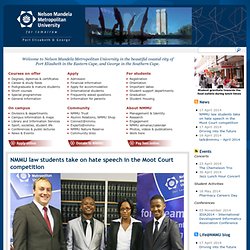 Welcome to Nelson Mandela Metropolitan University in the beautiful coastal city of Port Elizabeth in the Eastern Cape, and George in the South Cape. Thuthuka accounting students (from left) Sifundo Zondi, Gcobisa Sotashe, Wilfred Mbili, Birischka Smith and Mogafe Prince Moloto, seen here with NMMU alumnus Russell Raath who now works for change agents Kotter International, are among the 15 bursary holders to have passed the South African Institute of Chartered Accountants (SAICA) examination, in which NMMU received a 97% pass overall. Nelson Mandela Metropolitan University's School of Accounting has done it again by producing top results in the South African Institute of Chartered Accountants (SAICA) Initial Test of Competence (ITC) examination for chartered accountants. The university's BCom Honours (Accounting) graduates of 2012 obtained a 97% pass – as compared to the national average of 86% for first time attempts – with 71 NMMU graduates passing the exam.
QUESTIONING TECHNIQUES
EDWARD DE BONO - CoRT THINKING LESSONS
The CoRT THINKING PROGRAMME Most people do not bother any more about their thinking than they do about walking or breathing. Thinking seems a natural enough process and one is happy with one's competence. There is, however, much more individuality in thinking styles and sufficient difference between individuals to suggest that thinking may be a skill about which something can be done. It is with this in mind that Edward de Bono designed the CoRT Thinking Lessons for schools.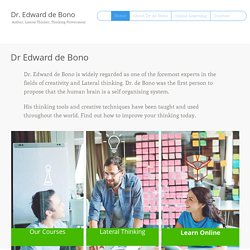 Essential Questions These are questions which touch our hearts and souls. They are central to our lives. They help to define what it means to be human. Most important thought during our lives will center on such essential questions. What does it mean to be a good friend?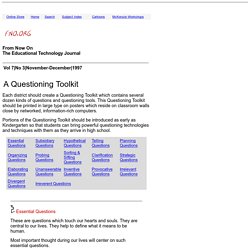 Edward de Bono CoRT Thinking Programme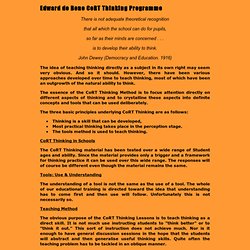 CAF is a crystallisation of the process of trying to consider all the factors in a situation. This thinking operation is essentially related to action, decision, planning, judgement, and coming to a conclusion. People naturally assume that they have considered all the factors, but usually their consideration is limited to the obvious ones. Turning CAF into a deliberate operation switches attention from the importance of the factors to looking around for all the factors.
The de Bono Group