Disasters 2
Disasters | NZHistory
Volcanoes Thematic Unit
Lesson Exchange Titanic - A Great Cooperative Game (Elementary, Phys Ed)
Titanic and Other White Star Line Ships
The RMS Titanic- pupil site
s Newfoundland-Related Resources on the World Wide Web
About Volcaneos - Level 3+
Introduction | The Nature of Volcanoes | Principal Types of Volcanoes | Other Volcanic Structures | Types of Volcanic Eruptions | Submarine Volcanoes | Geysers, Fumaroles, and Hot Springs | Volcano Environments | Plate-Tectonics Theory | Extraterrestrial Volcanoes | Volcano Monitoring and Research | Volcanoes and People | Suggested Reading This on-line edition contains all text from the original book in its entirety. Some figures have been modified to enhance legibility at screen resolutions. The printed version of this publication is one of a series of general interest publications prepared by the U.S.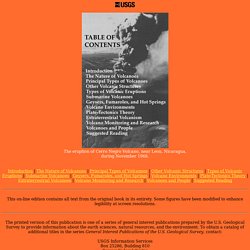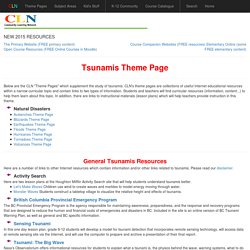 Tsunamis Theme Page
Tsunamis Theme Page Below are the CLN "Theme Pages" which supplement the study of tsunamis. CLN's theme pages are collections of useful Internet educational resources within a narrow curricular topic and contain links to two types of information. Students and teachers will find curricular resources (information, content...) to help them learn about this topic. In addition, there are links to instructional materials (lesson plans) which will help teachers provide instruction in this theme.
Chart your Course for Savings (Travel) Thematic Unit
Titanic in the classroom
The World's Deadliest Volcanoes See a slide show of the worst volcanic disasters in history and learn what caused the casualties. How do you measure the size of a volcanic eruption? Just as seismologists measure the size of an earthquake using the Richter scale, volcanologists use an eruption magnitude scale called the Volcanic Explosivity Index, or VEI to classify eruptions. This scale assigns a number to an eruption based on things that can be observed, such as the height of an eruptive plume and the volume of the materials erupted.
Deadly Shadow of Vesuvius The World's Deadliest Volcanoes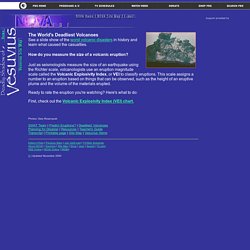 Latest New Zealand Earthquake Report - 2003 Jul 30 12:20 (NZST)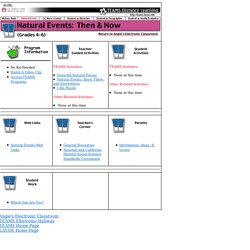 Natural Events Then and Now
No Kit Needed Watch A Video Clip Access TEAMS Programs
Most of the damage in stratovolcano eruptions comes not from lava flow but from a phenomenon known as pyroclastic flow. A pyroclastic flow is an avalanche of ground-hugging hot rock accompanied by a cloud of ash and gas that races down the slope of a volcano. The flow can reach speeds of up to 60 miles per hour, and temperatures of nearly 1,300 degrees Fahrenheit. Pyroclastic flows cause more death and destruction than any other volcanic hazard.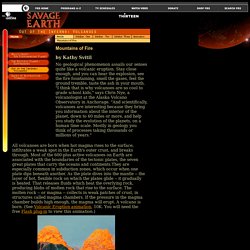 Savage Earth Out of the Inferno
Volcanoes -- Introduction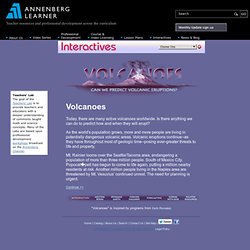 Today, there are many active volcanoes worldwide. Is there anything we can do to predict how and when they will erupt? As the world's population grows, more and more people are living in potentially dangerous volcanic areas. Volcanic eruptions continue--as they have throughout most of geologic time--posing ever-greater threats to life and property. Mt.
Ballantynes Fire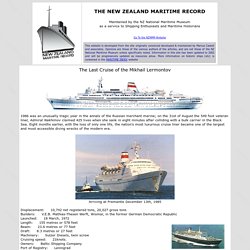 Left: aft boat deck and crane (the aft hatch cover can be seen to the left of the picture and fits flush with the deck). This is a reasonably old pic as the lifeboat in the background has yet to be replaced by one of the two large enclosed launches carried at the time she sank. Left: the Leningrad Restaurant.
The MV Mikhail Lermontov Web Site
I feel the Earth Move - Earthquakes Thematic Unit
Titanic: Unit Plan [English Online]
What are the worst disasters?
Volcanoes - Volcanoes around the World
Titanic Site- Pupil Created
Titanic Images from Maryland Newspapers - Maryland State Archives
The Titanic Thematic Unit
For many years, fire supression was used to controal and eliminate wildland fires. This was thought to be the right thing to do. Over time however, the duff, or underbrush piled up and fuel (the materials that fire feeds on) was allowed to accumulate to the point that were a fire to occur, disaster would almost certainly result. More recently, research (and physical evidence) has shown that allowing naturally occurring fires to burn is one way that nature takes care of housecleaning. Forest resource management now uses a technique called prescribed burns where they perform controlled burning to help that process along. These methods have their supporters and their opponents.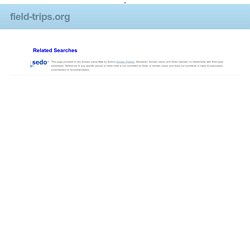 Wildfires Field Trip Intro
Avalanches Theme Page CLN Theme Pages Below are the CLN "Theme Pages" that supplement the study of avalanches. CLN's theme pages are collections of useful Internet educational resources within a narrow curricular topic and contain links to two types of information.
Avalanches Theme Page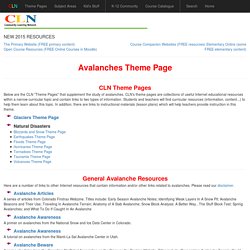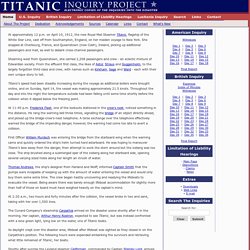 At approximately 12 p.m. on April 10, 1912, the new Royal Mail Steamer Titanic, flagship of the White Star Line, cast off from Southampton, England, on her maiden voyage to New York. She stopped at Cherbourg, France, and Queenstown (now Cobh), Ireland, picking up additional passengers and mail, as well to debark cross-channel passengers. Steaming west from Queenstown, she carried 2,208 passengers and crew - an eclectic mixture of Edwardian society. From the affluent first class, the likes of Astor, Straus and Guggenheim, to the largely forgotten third class and crew, with names such as Kirkham, Sage and Ward - each with their own unique story to tell. Titanic's speed had been steadily increasing during the voyage as additional boilers were brought online, and on Sunday, April 14, the vessel was making approximately 21.5 knots.
Titanic Inquiry Project - Electronic copies of British and American inquiries into the disaster
Earthquakes Thematic Unit
Sea voyages, shipwrecks & disaster tales with New Zealand connections Burning of the ship Blue Jacket In 1869 the immigrant ship Blue Jacket made her return voyage to London from Lyttelton. She was loaded with wool, flax and gold, all treasures from the relatively new colony of New Zealand. Unfortunately she was not to reach her destination and caught fire near the Falkland Islands following which she was abandoned and sank in the South Atlantic.
New Zealand Shipwrecks & Disasters
Ocean PlanetHow Deep Can they Go - The RMS Titanic
Painting above © Jim Claryalternate page In 1985, Dr. Robert Ballard led a team of researchers in a joint French-American expedition and found the final resting place of the R.M.S.
Mahadzir Mohamed and Noor M Norhalim Final Animation Project CS418 Computer Graphic Spring 1998 Introduction: Here is a rather crude rendition of a multi-million dollar animation clip made for the movie "Titanic". The animation basically shows how the RMS Titanic sunk in 1912, with a little "twist" added to it. The Plot:Scene 0: The title screen.
CS418 Final Animation Project
Throughout History: The Volcanoes of Lewis and Clark Take a tour down the Columbia River with Lewis and Clark ... Lewis and Clark were on the Columbia River between October 1805 and June 1806 ... during those months they saw FIVE volcanoes and even gave Mount Jefferson it's name ... this site has lots of old maps and images and postcards! Volcanoes and History Volcano Names ... Historical Maps and Journals ... The Volcanoes of George Vancouver ...
Living With Volcanoes - History, Culture
Titanic- Encyclopaedia Britannica
Air Safety Online In Depth Andrew Ayers The 1970s Air New Zealand Flight 901
Fire Level 2-4
Disaster, Catastrophe & Calamity Level 1-4
R.M.S. Titanic San Francisco Survivors Describe Awful Scene 1912
Safety