Careers
Circus. NASA-Astronauts. Astronaut Flight Lounge. Astronaut Requirements. Astronaut Requirements Have you ever wondered if you have what it takes to become a NASA Astronaut?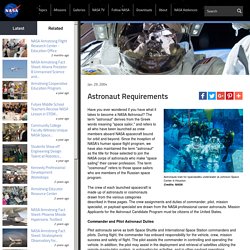 The term "astronaut" derives from the Greek words meaning "space sailor," and refers to all who have been launched as crew members aboard NASA spacecraft bound for orbit and beyond. Since the inception of NASA's human space flight program, we have also maintained the term "astronaut" as the title for those selected to join the NASA corps of astronauts who make "space sailing" their career profession. The term "cosmonaut" refers to those space sailors who are members of the Russian space program. The crew of each launched spacecraft is made up of astronauts or cosmonauts drawn from the various categories described in these pages.
Federal Bureau of Investigation - Kids' Page. The Space Place :: Live! Channel 4 - The Worst Jobs in History - Home. What I want to Be Careers Integrated Unit. The World of Work Thematic Unit. Helpful Hands Unit Plan. THE SLOT A Spot for Copy Editors. Entrepreneurship Theme Page. Entrepreneurship Theme Page This "Theme Page" has links to two types of resources related to the study of entrepreneurship.
Students and teachers will find curricular resources (information, content...) to help them learn about this topic. In addition, there are also links to instructional materials (lesson plans) which will help teachers provide instruction in this theme. Please read our disclaimer. You want to be What Careers, Jobs Thematic Unit. Career Connections Thematic Unit. Situation Vacant Jobs in the Past NZ Unit Plan. Mining Level 2-4. Teaching OnLine Dangerous Occupations. Oh the Things You can Be Thematic Unit. Careers in Math. Careers in Math Theme Page Here are a number of links to Internet sites which contain information and/or other links related to the specific theme of Careers in Math.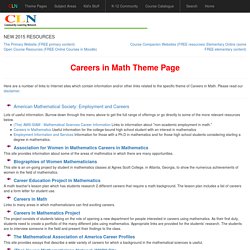 Please read our disclaimer. American Mathematical Society: Employment and Careers. Architecture. Careers Level 2-4. Careers Level 4+ KiwiCareers - Home Page. Finding a Career Integated Unit. Getting a Job Level 6+ Fill your trolley! - Supermarkets Unit Plan.
---