The Nerd Word
Tom Cruise's three marriages: the rundown | OMG Now. Tom Cruise might have hoped that the third time would be the charm when it came to everlasting wedded bliss, but alas marriage number three — to actress Katie Holmes — is ending in divorce.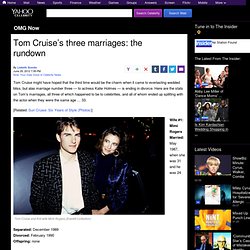 Here are the stats on Tom's marriages, all three of which happened to be to celebrities, and all of whom ended up splitting with the actor when they were the same age … 33. [Related: Suri Cruise: Six Years of Style (Photos)] Tom Cruise and first wife Mimi Rogers (Everett Collection) Wife #1: Mimi RogersMarried: May 1987, when she was 31 and he was 24Separated: December 1989Divorced: February 1990Offspring: none Why they broke up: Reports vary, with some blaming Cruise's increasing success as a leading man shortly after they tied the knot, thanks to hit films like "Rain Man" and "Born on the Fourth of July.
6-5-E3 is Coming
Jonah Hill regains weight… on purpose? | Movie Talk. Hill at the height of his weight loss, left, and Hill now.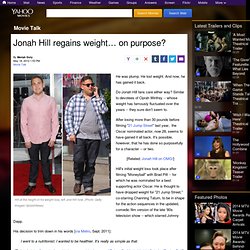 (Photo: Getty Images/ SplashNews) He was plump. He lost weight. And now, he has gained it back. Do Jonah Hill fans care either way? Japan. Anime. Science Fiction Books. Gadgets. Movies.
To Come in 2012
Zombie Stuff. Other Nerdy Things. Comic Book Stuff. Video game stuff. StarWars/ StarTrek.
---