Movies
Get flash to fully experience Pearltrees
Sorry, Bella. When it comes to box-office odds, Katniss Everdeen had everything in her favor. " The Hunger Games " scored $155 million in North American ticket sales this weekend, the third highest opening weekend of all time, according to estimates from Lionsgate.
Warning: This review will contain spoilers. If you haven't read the book you might not want to read this review until after you've seen the movie.
All Critics (269) | Top Critics (43) | Fresh (231) | Rotten (41) | DVD (4)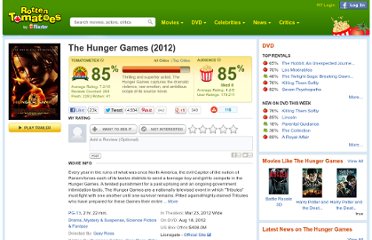 Every year in the ruins of what was once North America, the Capitol of the nation of Panem forces each of its twelve districts to send a teenage boy and girl to compete in the Hunger Games. A twisted punishment for a past uprising and an ongoing government intimidation tactic, The Hunger Games are a nationally televised event in which "Tributes" must fight with one another until one survivor remains.
The Japanese tsunami of 2011 was a disaster of such epic proportions that the footage looks like something out of an overblown Hollywood blockbuster.
Thank you for visiting the Pray for Japan documentary film Kickstarter page! Together we can not only honor the incredible real-life heroes of the Tohoku Tragedy, but build a movement that assures their efforts will never go forgotten. I hope the info here is useful for everyone – please feel free to ask questions here or at F ACEBOOK - and don't forget to "like" the page!
Since his serialized magazine debut 100 years ago, Edgar Rice Burrough's John Carter has fueled the world's imagination as a man caught between two worlds. Traveling from Earth to Mars, Carter uses the strength, skills and morals of the former to forge his destiny in the latter.
Cast: Taylor Kitsch as John Carter Lynn Collins as Dejah Thoris Samantha Morton as Sola Willem Dafoe as Tars Tarkas Thomas Haden Church as Tal Hajus Mark Strong as Matai Shang Ciarán Hinds as Tardos Mors Dominic West as Sab Than James Purefoy as Kantos Kan Bryan Cranston as Powell Polly Walker as Sarkoja Daryl Sabara as Edgar Rice Burroughs
Edit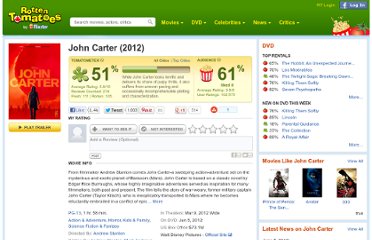 All Critics (216) | Top Critics (41) | Fresh (113) | Rotten (106) | DVD (5)