6-5-E3 is Coming
Jim Henson Company breaks ties with Chick-fil-A over gay marriage stance | The Sideshow. Lisa Henson and brother Brian (right) pose with former Disney Studios Chair Rich Ross during a recent Muppets event.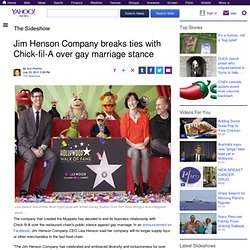 . … Warner Bros. to Make 'Substantial' Donation to Colorado Shooting Victims. This undated film image released by Warner Bros.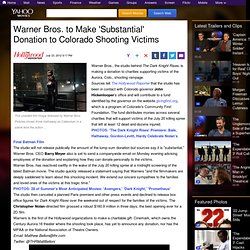 Pictures shows Anne Hathaway as Catwoman in a scene from the action … Warner Bros., the studio behind The Dark Knight Rises, is making a donation to charities supporting victims of the Aurora, Colo., shooting rampage. An Update on the Future of the Bourne Franchise. Source: ComingSoon.net July 20, 2012 At the end of last month, The Bourne Legacy producer Frank Marshall revealed that his ideal plans for a fifth film in the franchise would see Jeremy Renner's Aaron Cross teaming up with Matt Damon's Jason Bourne.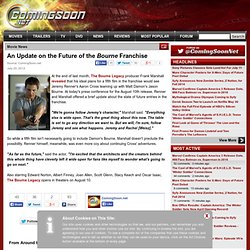 At today's press conference for the August 10th release, Renner and Marshall offered a brief update about the state of future entries in the franchise. DreamWorks Animation Acquires Classic Media. DreamWorks Animation today officially announced that the company will acquire Classic Media, the owners of Casper the Friendly Ghost, Where's Waldo?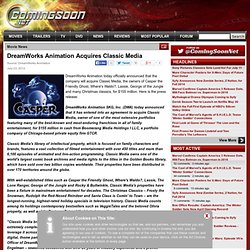 , Lassie, George of the Jungle and many Christmas classics, for $155 million. Here is the press release: DreamWorks Animation SKG, Inc. (DWA) today announced that it has entered into an agreement to acquire Classic Media, owner of one of the most extensive portfolios featuring many of the best-known and most-enduring franchises in all of family entertainment, for $155 million in cash from Boomerang Media Holdings I LLC, a portfolio company of Chicago-based private equity firm GTCR. Despicable Me's Minions Targeted For Feature Film.
Although the Minions will be joining Gru on the big screen next year in Universal Pictures and Illumination Entertainment's Despicable Me 2, Deadline reports that a solo Minions feature is being planned for a 2014 release.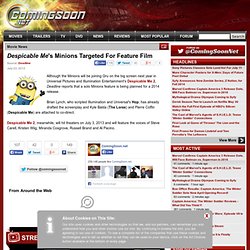 Brian Lynch, who scripted Illumination and Universal's Hop, has already drafted the screenplay and Kyle Balda (The Lorax) and Pierre Coffin (Despicable Me) are attached to co-direct. Despicable Me 2, meanwhile, will hit theaters on July 3, 2013 and will feature the voices of Steve Carell, Kristen Wiig, Miranda Cosgrove, Russell Brand and Al Pacino. From Around the Web. The First Episode of Dinosaurs vs. Aliens is Live. Source: Yahoo!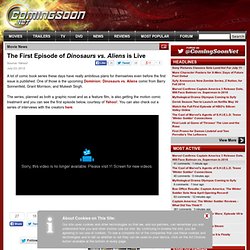 July 23, 2012 A lot of comic book series these days have really ambitious plans for themselves even before the first issue is published. Upcoming Movies in Theaters and on DVD. Assassin's Creed III getting episodic DLC? Gamers may want to hold on to their copies of Assassin's Creed III after launch in late October, as it appears Ubisoft is planning a plethora of postlaunch downloadable content.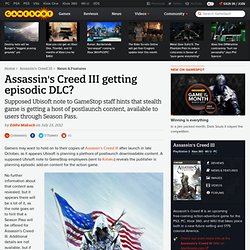 A supposed Ubisoft note to GameStop employees (sent to Kotaku) reveals the publisher is planning episodic add-on content for the action game. No further information about that content was revealed, but it appears there will be a lot of it, as the note goes on to hint that a Season Pass will be offered for Assassin's Creed III. Rian Johnson's Looper Will Open the Toronto International Film Festival. As in past years, ComingSoon.net will be covering the 2012 Toronto International Film Festival (TIFF) and hours before the official press conference announcing this year's TIFF line-up< Variety have released an extensive list of the movies that will premiere there including Rian Johnson's action-thriller Looper, starring Joseph Gordon-Levitt, Bruce Willis and Emily Blunt as the festival opener on Thursday, September 6.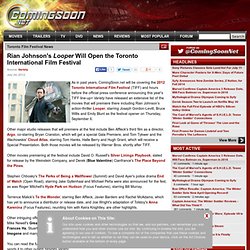 Other major studio releases that will premiere at the fest include Ben Affleck's third film as a director, Argo, co-starring Bryan Cranston, which will get a special Gala Premiere, and Tom Tykwer and the Wachowskis' Cloud Atlas, starring Tom Hanks, Halle Berry and Hugh Grant, which will receive a Special Presentation. Both those movies will be released by Warner Bros. shortly after TIFF. Other movies premiering at the festival include David O. Diablo III bug makes characters invulnerable. A bug allowing Diablo III players to make their characters invulnerable has been in use by players for at least a day, and Blizzard is still working on a fix for the issue.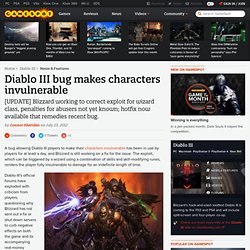 The exploit, which can be triggered by a wizard using a combination of skills and skill-modifying runes, renders the player fully invulnerable to damage for an indefinite length of time. Diablo III's official forums have exploded with criticism from players, questioning why Blizzard has not sent out a fix or shut down servers to curb negative effects on both the game and its accompanying real-money auction house (several reports indicate players easily "farming" the game's most difficult areas and modes). "We're working on the bug, just no announcement of when we're fixing it yet," said one Blizzard quality assurance employee in response to forum complaints. Box Office Mojo. Kojima unveiling Fox Engine August 30. Hideo Kojima is nearly ready to show the world what he's been working on for the last four years.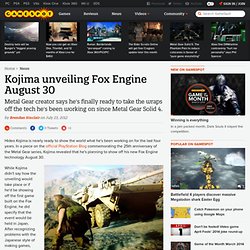 In a piece on the official PlayStation Blog commemorating the 25th anniversary of the Metal Gear series, Kojima revealed that he's planning to show off his new Fox Engine technology August 30. While Kojima didn't say how the unveiling would take place or if he'd be showing off the first game built on the Fox Engine, he did specify that the event would be held in Japan. After recognizing problems with the Japanese style of making games, Kojima said he spent a year and a half visiting studios worldwide to refine the development process. Christopher Nolan's Goodbye to the Batman Franchise. The Dark Knight Rises director/co-writer/co-producer Christopher Nolan wrote the foreword to The Art and Making of The Dark Knight Trilogy, which was released in stores on July 20th, the same day the film was released in theaters.
You can now read the foreword below, thanks to SuperHeroHype Forums member 'kvz5': Alfred. Gordon. Movies Coming Soon | Upcoming Movies | Trailers. Video Game News, Game News. Box Office Mojo.
---