Extensions Firefox SEO
HTML VALIDATOR (based on Tidy and OpenSP) HTML Validator is a Mozilla extension that adds HTML validation inside Firefox and Mozilla. The number of errors of a HTML page is seen on the form of an icon in the status bar when browsing.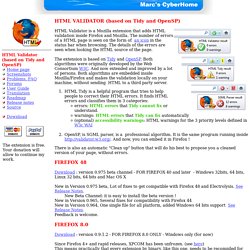 Html Validator for Firefox and Mozilla
Wikipedia Lookup Add-on
Download
Flagfox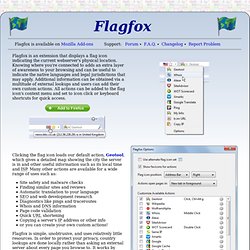 Flagfox is an extension that displays a flag icon indicating the current webserver's physical location. Knowing where you're connected to adds an extra layer of awareness to your browsing and can be useful to indicate the native languages and legal jurisdictions that may apply. Additional information can be obtained via a multitude of external lookups and users can add their own custom actions.
SEO Link Analysis Firefox Extension
Please bookmark this page on Delicious for your future reference. Set up your free SEO Book account, and you will get this tool + 2 other SEO tools valued at over $300 for free. Already have an account? Log in and your installation link will appear in the place of this message. Why do Over 500,000 Webmasters Use Rank Checker? Want to know where your website ranks in the search results?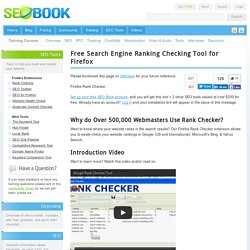 To get the best results out of Google Analytics, you need to ensure it's installed on each page of a website. To automatically check for you, I've created a Firefox extension to do all the work. GA? will put a little icon in the status bar of your Firefox web browser.
Is Google Analytics Installed? – GA? Firefox Extension - Blog on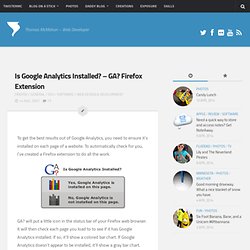 Les 16 meilleures extensions Firefox pour votre référencement /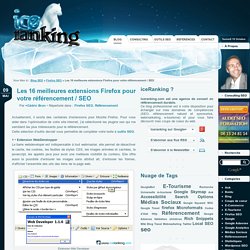 0inShareinShare0 Actuellement, il existe des centaines d'extensions pour Mozilla Firefox. Pour vous aider dans l'optimisation de votre site internet, j'ai séléctionné les plugins seo qui me semblent les plus intéressants pour le référencement.
Download