Digital Citizenship
Schools Can No Longer Ignore the Importance of Digital Citizenship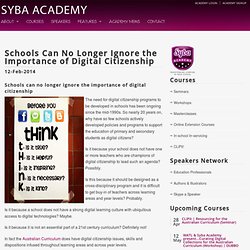 12-Feb-2014 Schools can no longer ignore the importance of digital citizenship The need for digital citizenship programs to be developed in schools has been ongoing since the mid-1990s. So nearly 20 years on, why have so few schools actively developed policies and programs to support the education of primary and secondary students as digital citizens? Is it because your school does not have one or more teachers who are champions of digital citizenship to lead such an agenda? Possibly.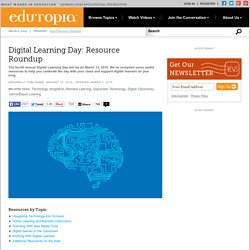 New Video! An Introduction to Technology Integration (2012) Integrating technology with classroom practice can be a great way to strengthen engagement by linking students to a global audience, turning them into creators of digital media, and helping them practice collaboration skills that will prepare them for the future. New!
Last updated 10:45 21/10/2013 I'm on my 25th work password. We have to change them all the time. They need to have numbers or punctuation as well as letters, and can't repeat any of your old passwords, which is pretty standard. I've moved past the regular three words and various number combinations I usually use into full sentences that feature a number.
Why have passwords taken over our lives?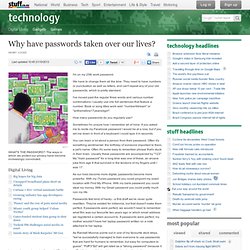 Some very good advice for all... - ICentre Mt Alvernia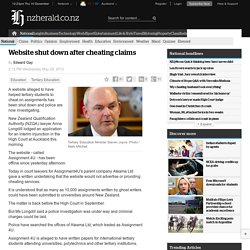 Expand Tertiary Education Minister Steven Joyce. Photo / Mark Mitchell A website alleged to have helped tertiary students to cheat on assignments has been shut down and police are now investigating. New Zealand Qualification Authority (NZQA) lawyer Anna Longdill lodged an application for an interim injunction in the High Court at Auckland this morning. The website - called Assignment 4U - has been offline since yesterday afternoon.
Website shut down after cheating claims
Student Safety in the Age of Facebook -- THE Journal | Digital Citizenship in Schools
Photo credit: Public domain pictures This is a great list from Deb Ng, founder and former owner of the Freelance Writing Jobs. I thought hard about what she'd written to see if I could add anything, enhance or disagree.
29 Steps to Internet Safety for Kids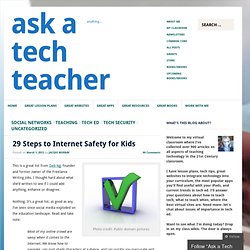 Digital Footprint
Plagiarists, beware: the internet will find you out | Books
Plagiarists take note ... A screengrab from Liz Fielding's blog Hurrah for the internet, which has unmasked and brought down another plagiariser: in this case a romance "writer" going under the name of Kay Manning. Her uncovering came courtesy of a crack team of authors: first Liz Fielding, who posted about a short story of hers which she'd discovered had been plagiarised. "All Kay Manning has done is change the names of the characters, change the location and minor details," wrote Fielding. "Why, I cannot imagine, since she's giving it away free.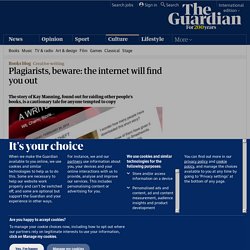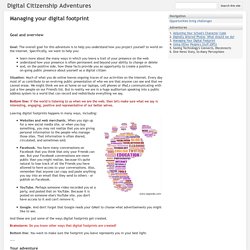 Goal and overview Goal: The overall goal for this adventure is to help you understand how you project yourself to world on the Internet. Specifically, we want to help you:learn more about the many ways in which you leave a trail of your presence on the webunderstand how your presence is often permanent and beyond your ability to change or deleteand, on the positive side, how these facts provide you an opportunity to create a positive, on-going public presence about yourself as a digital citizen Situation: Much of what you do online leaves ongoing traces of our activities on the Internet. Every day most of us contribute to an evolving public presentation of who we are that anyone can see and that we cannot erase. We might think we are at home on our laptops, cell phones or iPad,s communicating with just a few people on our Friend's list.
Managing your digital footprint - Digital Citizenship Adventures
Digital Footprint
Online Safety Tips and Tools to Protect Kids and Inform Parents about Internet dangers
Our Space: Being a Responsible Citizen of the Digital World | The GoodWork Project | Digital Citizenship in Schools | Scoop.it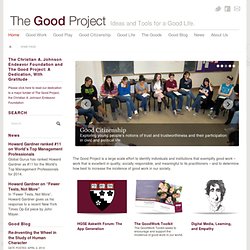 Success vs. Meaning Date posted: December 12, 2013 I was talking last week to a 2013 Rivers graduate who is doing a gap year before she attends an Ivy League college. She spent two months in Tanzania, working in a clinic that delivers babies. She actually delivered four babies herself. Her experience was transforming.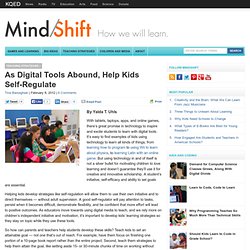 Teaching Strategies By Yalda T. Uhls
As Digital Tools Abound, Help Kids Self-Regulate