Military Info
Air Force Registration Page
Navy Registration Page
PEARL HARBOR (Jan. 7, 2014)3 of 4 Chief Yeoman Javier Rodriguez-Santiago, left, and Aviation Support Equipment Technician 2nd Class Marlon Bevans block a spiked ball during a sitting volleyball practice session at the Joint Base Pearl Harbor-Hickam Fitness Center for the scheduled Wounded Warrior Pacific Invitational (WWPI) in Honolulu, Jan. 8-10. WWPI is a competition among seriously wounded, ill and wounded service members from the Air Force, Army, Coast Guard, Navy and Special Operations Command.
Army Registration Page
ArmyStudyGuide.com - A FREE Online and Audio Army Board Study Guide for U.S. Army Promotion Boards and Soldier / NCO Boards. ...
Go Army Homepage | GoArmy.com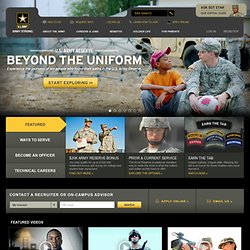 http://offload.goarmy.com/content/dam/goarmy/marquees/homepage/startingstrong/marquee1_starting_strong_image.jpg
Marine Corps Registration Page
U.S. Marine Corps
Coast Guard Registration Page
UNITED STATES COAST GUARD:
National Guard Registration - Military.com
The National Guard - Official Website of the National Guard
Spouse Network – Military.com