Read-out
Coconut Oil Is Awesome: 5 Fantastic Coconut Oil Remedies | Mom Must Read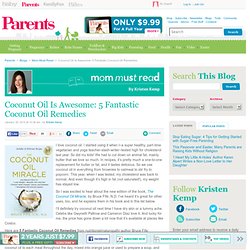 January 30, 2014 at 10:36 am , by Kristen Kemp I love coconut oil. I started using it when I–a super healthy, part-time vegetarian and yoga teacher-slash-writer–tested high for cholesterol last year. So did my kids! We had to cut down on animal fat, mainly butter that we love so much.
Coconut Oil Is Awesome: 5 Fantastic Coconut Oil Remedies | Mom Must Read
100 Famous Restaurant Recipes You Can Replicate at Home |
Eating out is becoming a more and more popular phenomenon. With fast food taking only minutes out of a day and costing a few dollars, it can be convenient. Likewise, fine dining is also on the rise and can put a considerably larger dent in your wallet. But unless you were a master chef with a keen sense of taste, these recipes were lost to you. Until the internet came along and provided those with the ability to reproduce recipes and post them for the world to see.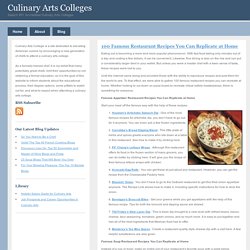 In 2005, college student Loren Williams was killed in a motorcycle accident. His grieving mother, yearning to feel closer to her son, wanted to use his Facebook page. More than just seeing the site, she wanted to see his correspondence, to read his messages, in hopes of understanding her son better. A 25-year-old federal law, however, barred her from accessing his account. See also:
What Happens to Your Facebook Account When You Die?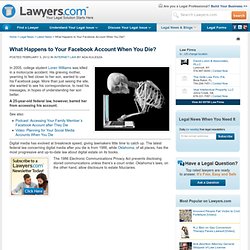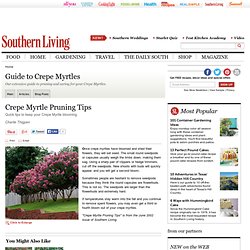 Once crepe myrtles have bloomed and shed their flowers, they will set seed. The small round seedpods or capsules usually weigh the limbs down, making them sag. Using a sharp pair of clippers or hedge trimmers, cut off the seedpods. New shoots with buds will quickly appear, and you will get a second bloom.
Crepe Myrtle Pruning Tips
com - 12 Storage Solutions - Cookware Organizer
Did you know vinegar could possibly be the last household cleaner you'll ever need? Click through the slideshow to see all the uses for vinegar. Holy cow! Who knew?! I better go buy a few gallons of vinegar.
50 uses for vinegar…who knew?
Lord help me, people. I've spent the last two days trying to write a concise, easy guide to essential oils and their safety, and it ended up being just an enormous dump of information that no would want to ingest in a single blog post. Therefore, you're getting the quickest, easiest 21 facts you need to keep in mind. These things include safety measures, essential oil facts, therapeutic uses, and more. You'll like this better.
21 Things You Should Know About Using Essential Oils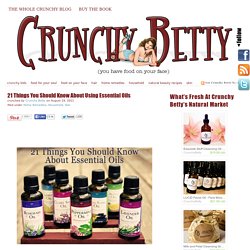 - StumbleUpon
& What is your acne telling you? The Beauty Gypsy
*The Thrifty Home: How to Remove Hard Water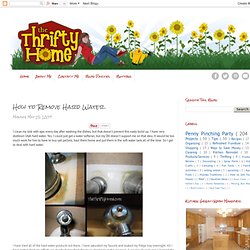 I clean my sink with ajax every day after washing the dishes, but that doesn't prevent this nasty build up. I have very stubborn Utah hard water. Yes, I could just get a water softener, but my DH doesn't support me on that idea. It would be too much work for him to have to buy salt pellets, haul them home and put them in the soft water tank all of the time. So I get to deal with hard water.
Vaseline, a.k.a. petroleum jelly is a beauty staple that every girl should have in their makeup bag. There are a zillions of uses for it and it is so inexpensive! Here's some beauty related tricks you can do with vaseline: 1. Lip balm: moisturizes and soothes chapped lips but it doesn't taste good. 2.
22 Beautiful Uses For Vaseline | beautifulwithbrains.com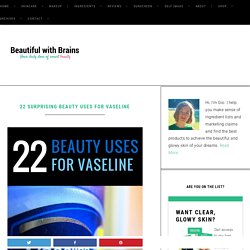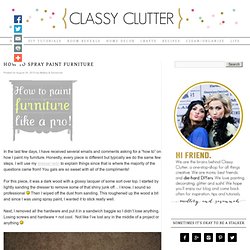 In the last few days, I have received several emails and comments asking for a "how to" on how I paint my furniture. Honestly, every piece is different but typically we do the same few steps. I will use my dresser redo to explain things since that is where the majority of the questions came from! You gals are so sweet with all of the compliments! For this piece, it was a dark wood with a glossy lacquer of some sort over top.
How to spray paint furniture
post written by: Marc Chernoff Email If you don't go after what you want, you'll never get it. If you don't ask the right questions, you'll always get the wrong answers. If you don't take a step forward, you're always going to be in the same place.
50 Ways to Waste a Life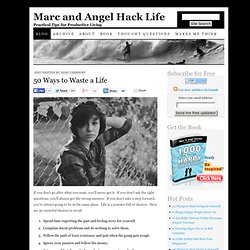 Top 100: Best Movies (of All-Time) | Lifed
The best movies evoke tears, laughter, terror, reminiscence, and/or mystery in a truly personal way. Anything less (AKA, around 98% of all movies) serves no purpose other than to shove mindless, forgettable fodder in our face and line Hollywood's pockets (Be afraid Michael Bay, be VERY afraid). This is that other, sacred 2%—the Holy Grail of cinema. Note: "Memorable Moments" may contain spoilers. 100.
The best stuff in life is free. Like sunshine, blue skies and THE OCEAN…if you have access to it, that is. Which I don't.
Bottle it up | Maskcara
22 Beautiful Uses For Vaseline | beautifulwithbrains.com
Summer Skin Care and Hair Products for Damaged Hair, Skin
Shoot First, Eat Later: 7% - Life lessons from a 90 yr. old woman
A Beginners Shopping List: Quality Food For The Best Results! | SimplyShredded.com
Restaurant Coupons - List of all current Restaurant Printable Coupons!
Every day, all over the world, dogs repeat the same ritual: Nose to the ground, they sniff along a dotted line of an invisible treasure map, stopping at that "X" marks the spot where they can finally get down to business. What's with all this sniffing, anyway? The simple answer: It's the way dogs have been communicating with one another for centuries. Scent Marking Is Serious Business Scent marking is an instinctual behavior in which a dog deposits his own odor — in the form of urine or feces — onto his environment to mark territory or make a statement.
Why Does My Dog . . . Sniff the Ground Before He Poops? - Vetstreet
Free Full Movies.net. Watch Movies Online. Free Movie Downloads Site
8 relationship myths that might surprise you | MNN - Mother Nature Network
10 Naughty Books Thatll Make You Want to Have Sex - iVillage
Zest Now: For Women Living Their Best Lives at 55 and Beyond
10 Things I Wish I'd Known When I Was 20 | SHELLI JOHNSON
Courses for Men and Women
Advice from Somewhere
17 Tips to Encourage Sibling Bonding [From the Mouths of Moms]