Read-out
Eating out is becoming a more and more popular phenomenon.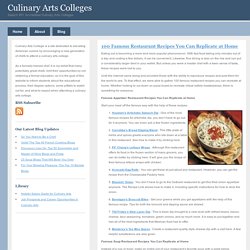 In 2005, college student Loren Williams was killed in a motorcycle accident. His grieving mother, yearning to feel closer to her son, wanted to use his Facebook page. More than just seeing the site, she wanted to see his correspondence, to read his messages, in hopes of understanding her son better. A 25-year-old federal law, however, barred her from accessing his account. See also:
What Happens to Your Facebook Account When You Die?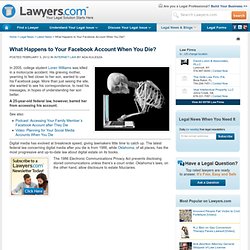 Crepe Myrtle Pruning Tips
com - 12 Storage Solutions - Cookware Organizer
Did you know vinegar could possibly be the last household cleaner you'll ever need? Click through the slideshow to see all the uses for vinegar. Holy cow! Who knew?! I better go buy a few gallons of vinegar.
50 uses for vinegar…who knew?
Lord help me, people.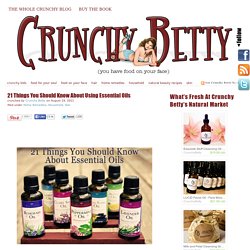 I always knew that the once-monthly spots that overtook my chin were the result of not-so-stable hormones. However, when my dermatologist took one look at the sudden outcrop of angry zits on my nose and asked me to get my blood pressure checked, it introduced me to a whole new (actually old) science of face mapping, which is pretty much the key to unlocking the mysteries behind problem skin. Face mapping, which is fast taking centre stage at most clinics nowadays, combines Ayurveda and ancient Chinese medicine with cutting edge dermatologists' prescriptions to explain how certain parts of your face are connected to other areas of your body.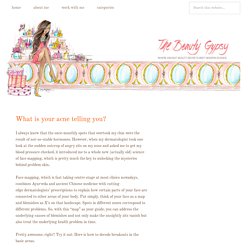 *The Thrifty Home: How to Remove Hard Water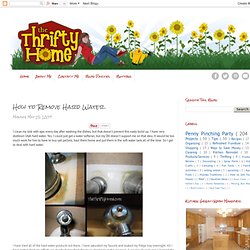 I clean my sink with ajax every day after washing the dishes, but that doesn't prevent this nasty build up. I have very stubborn Utah hard water. Yes, I could just get a water softener, but my DH doesn't support me on that idea. It would be too much work for him to have to buy salt pellets, haul them home and put them in the soft water tank all of the time. So I get to deal with hard water.
Vaseline, a.k.a. petroleum jelly is a beauty staple that every girl should have in their makeup bag. There are a zillions of uses for it and it is so inexpensive!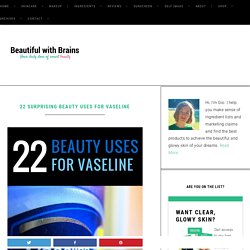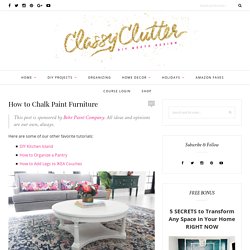 In the last few days, I have received several emails and comments asking for a "how to" on how I paint my furniture. Honestly, every piece is different but typically we do the same few steps. I will use my dresser redo to explain things since that is where the majority of the questions came from! You gals are so sweet with all of the compliments!
How to spray paint furniture
post written by: Marc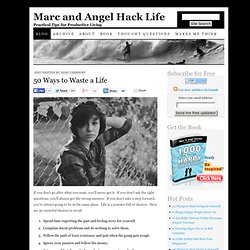 The best movies evoke tears, laughter, terror, reminiscence, and/or mystery in a truly personal way.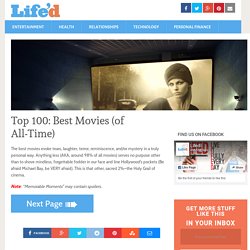 The best stuff in life is free. Like sunshine, blue skies and THE OCEAN…if you have access to it, that is. Which I don't. And I know it's only January but I'm already Jonesing for spring. So, to scratch the itch, I decided to go with beach hair.
Summer Skin Care and Hair Products for Damaged Hair, Skin
Written By Regina Brett, 90 years old, The Plain Dealer, Cleveland , Ohio "To celebrate growing older, I once wrote the 45 lessons life taught me. It is the most-requested column I've ever written.
As a beginner, weight training always comes first in one's mind. You hit the gym and train like a freak, loving every minute of it. Be it that you are looking to lose weight or gain muscle the gym is the first place you focus on.
By Dr. Mary Fuller | May 8, 2012 Every day, all over the world, dogs repeat the same ritual: Nose to the ground, they sniff along a dotted line of an invisible treasure map, stopping at that "X" marks the spot where they can finally get down to business. What's with all this sniffing, anyway? The simple answer: It's the way dogs have been communicating with one another for centuries.
Why Does My Dog . . . Sniff the Ground Before He Poops? - Vetstreet
Free Full Movies.net. Watch Movies Online. Free Movie Downloads Site
8 relationship myths that might surprise you | MNN - Mother Nature Network
30 More Inappropriately Sexy Ads
10 Naughty Books Thatll Make You Want to Have Sex - iVillage
Zest Now: For Women Living Their Best Lives at 55 and Beyond
10 Things I Wish I'd Known When I Was 20 | SHELLI JOHNSON
17 Tips to Encourage Sibling Bonding [From the Mouths of Moms]