Pasta
Slim Chicken Parmesan. Creamy Farfalle with Salmon and Peas Photo at Epicurious. Video: Baked Penne with Italian Sausage. Mom's Quick Pasta Sauce Recipe. Tips for Creamy Baked Mac 'n' Cheese - Cooks Journal. The contrast between crisp surface and creamy interior makes baked macaroni and cheese irresistible, but béchamel-based recipes can end up dry.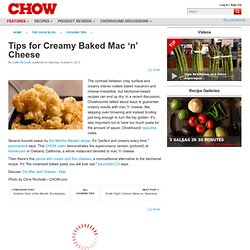 In a recent discussion, Chowhounds talked about ways to guarantee creamy results with mac 'n' cheese, like skipping oven browning and instead broiling just long enough to turn the top golden. It's also important not to have too much pasta for the amount of sauce, Chowhound rasputina notes. Several hounds swear by this Martha Stewart recipe. It's "perfect and creamy every time," jeanmarieok says.
This CHOW video demonstrates the supercreamy version (pictured) at Homeroom in Oakland, California, a whole restaurant devoted to mac 'n' cheese. Lobster Mac & Cheese Recipe : Ina Garten. Ingredients 2 tablespoons vegetable oil Kosher salt.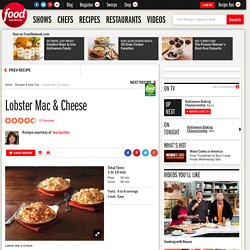 PROUD ITALIAN COOK. Fast Creamy Tomato Penne Recipe. Lasagna Cups | creative gift ideas & news at catching fireflies. I like lasagna.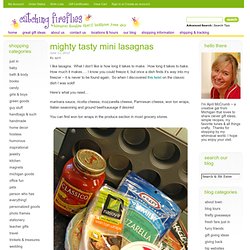 What I don't like is how long it takes to make. How long it takes to bake. How much it makes…. Lucy's Mac and Corn Recipe. Slow Cooker Lasagna Recipe. Video: Classic Macaroni Salad. Creamy Chicken on Linguine Recipe. RWFzeSBNYWNhcm9uaSBhbmQgQ2hlZXNlIFJlY2lwZXMN. Rachael Ray's "You Won't Be Single For Long" Vodka Cream Pasta. Ingredients Makes 4 servings 1 tbsp extra-virgin olive oil, once around the pan in a slow stream 1 tbsp butter.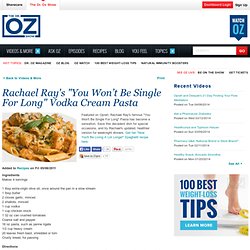 Cheesy Macaroni and Cheese. I am going to call this our go-to mac and cheese.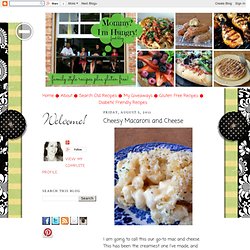 This has been the creamiest one I've made, and that's how I like it. Other baked mac n cheeses tend to come out dry and are horrible for leftovers, not this. I have to say I think it's the Velveeta in it, even though I'm not real keen on it, I'll use it for this recipe. Smoky Corn & Black Bean Pizza Recipe. Portion Control Pasta Basket, Pasta Strainer, Pasta Measuring Tool. A bird and a bean: BLT pasta salad. Brandied Shrimp with Pasta Recipe. Cheeseburger Macaroni. This delicious, incredibly cheesy dish is another one of our favorite weeknight dinners.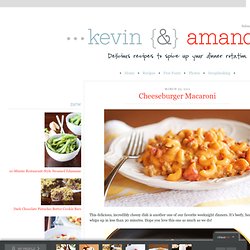 It's beefy, hearty and whips up in less than 20 minutes. Hope you love this one as much as we do! Start with one pound of lean hamburger meat, browned and drained. Add a package of taco seasoning. And one can of this. Mac and Cheese. I am *in love* with this simple, no-frills mac and cheese. :) My granny used to make this all the time- she knew it was my favorite and always had it ready whenever I came to visit. :) It's a delicious quick-and-easy side dish- no fancy or unnecessary ingredients, just pure, unadulterated mac and cheese.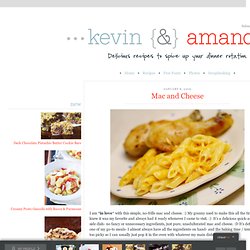 :D It's definitely one of my go-to meals- I almost always have all the ingredients on hand- and the baking time / temp isn't too picky so I can usually just pop it in the oven with whatever my main dish is. :) The ingredients: noodles, butter, salt, shredded cheese and milk. CREAMY BACON CARBONARA. When I die and go to heaven . . .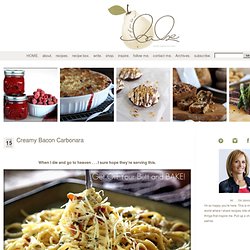 I sure hope they're serving this. If you want a fast but ultra delicious meal in just minutes, this is the dish.
---