Architecture
A love of surfing, proximity to the coast, and major life changes inspire a relaxing and thoughtful design. This stunning island, custom designed by Bubnowski, is the heart of this kitchen.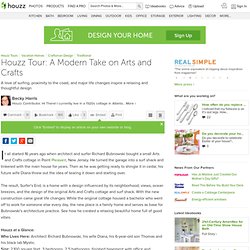 Crafted from cherry wood and topped with a honed Andes Black granite, it creates a visual boundary between the kitchen and the dining spaces within an open floor plan. The tapered legs are distinctly Arts-and-Crafts inspired; the curved countertop softens the edge between the two spaces. Home Remodeling, Repair and Improvement - Products, Ideas and How-To Tips.
Beautiful Warehouse Conversion in Melbourne. By Eric • Feb 14, 2011 • Selected Work Spotted on MBP, here is a completely renovated apartment located in a historic building in Melbourne, Australia.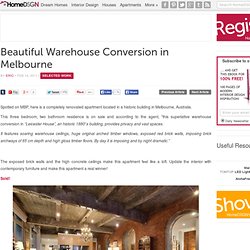 This three bedroom, two bathroom residence is on sale and according to the agent, "this superlative warehouse conversion in "Leicester House", an historic 1880′s building, provides privacy and vast spaces. It features soaring warehouse ceilings, huge original arched timber windows, exposed red brick walls, imposing brick archways of 65 cm depth and high gloss timber floors. The Portabello Residence in Corona Del Mar. By Eric • Jul 14, 2011 • Selected Work Located on Brighton Rod in Corona Del Mar, an exclusive neighborhood in the heart of Newport Beach, California, the sprawling Portabello Estate was eventually sold in late 2010 for $34.1 million, less than half the original $75 million asking price!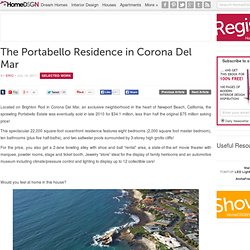 This spectacular 22,000 square-foot oceanfront residence features eight bedrooms (2,000 square foot master bedroom), ten bathrooms (plus five half-baths), and two saltwater pools surrounded by 3-storey high grotto cliffs! Kaweah Falls House, a River Runs Through it! By Eric • Mar 28, 2011 • Selected Work Located in Three Rivers, a rustic yet stylish community which serves as the gateway to the Sequoia National Park in California, this home was built in 1942 by architect Frank Robert, a student of Frank Lloyd Wright.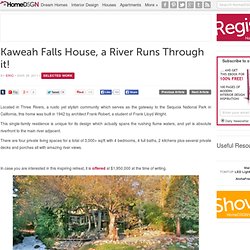 This single-family residence is unique for its design which actually spans the rushing flume waters, and yet is absolute riverfront to the main river adjacent. There are four private living spaces for a total of 3,000+ sq/ft with 4 bedrooms, 4 full baths, 2 kitchens plus several private decks and porches all with amazing river views. In case you are interested in this inspiring retreat, it is offered at $1,950,000 at the time of writing. The gated entry reveals a verdant paradise nestled amid mature trees and lush vegetation. Summer House Vestfold 2 by JVA. By Eric • Nov 10, 2011 • Selected Work Norvegian studio Jarmund/Vigsnæs Architects (JVA) has completed the Summer House Vestfold 2 project in 2009.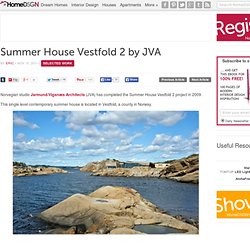 This single level contemporary summer house is located in Vestfold, a county in Norway. Summer House Vestfold 2 by JVA: Abandoned Houses by Kevin Bauman 100 Abandoned Houses by Kevin Bauman – HomeDSGN, a daily source for inspiration and fresh ideas on interior design and home decoration. Stairway of the crying walls by Sven Fennema.
Steampunk office interior design and fabrication | Because We Can. Stairway of the crying walls by Sven Fennema. Before & after: trolley depot renovation. It's always been my dream to live in a home with airy, open rooms and lots of exposed bricks, so when this renovation project from Amy came across my desk, I was instantly smitten.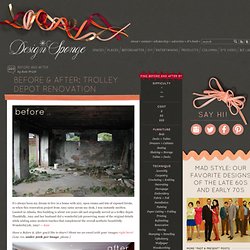 Located in Atlanta, this building is about 100 years old and originally served as a trolley depot. Thankfully, Amy and her husband did a wonderful job preserving many of the original details while adding some modern touches that complement the overall aesthetic beautifully. Wonderful job, Amy! — Kate Have a Before & After you'd like to share?
---