Processing
java version "1.6.0_20" OpenJDK Runtime Environment (IcedTea6 1.9) (6b20-1.9-0ubuntu1) OpenJDK 64-Bit Server VM (build 17.0-b16, mixed mode) java.lang.NullPointerException at sun.applet.PluginAppletViewer.handleMessage(PluginAppletViewer.java:649) at sun.applet.PluginStreamHandler.handleMessage(PluginStreamHandler.java:270)
Issue with Processing + Ubuntu 10.10 + OpenJDK Plugin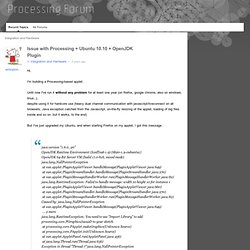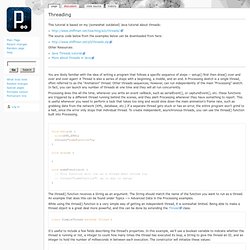 From Processing This tutorial is based on my (somewhat outdated) Java tutorial about threads: http://www.shiffman.net/teaching/a2z/threads/ The source code below from the examples below can be downloaded from here:
Threading
Threads at daniel shiffman
If you are looking for a tutorial about using threads in Processing, I've adapted this page on the Processing wiki: http://wiki.processing.org/w/Threading Examples: Related: Java Threads tutorial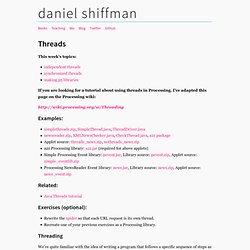 Clocks and Timers - General Overview There are two kinds of time related devices in a system: a means to read a time value; anda means to schedule/trigger a time related event The term "clock" is often used to refer to both of these because you read the time from a clock, and you can (often) set an alarm to have something happen when the clock reaches a certain time. Sometimes the term "passive clock" is used for a time source that can only be read, while "active clock" is used for one that can also trigger an event/interrupt/alarm. For the sake of discussion (and because they are different hardware devices) I will use the term "clock" to refer to the means by which a time value can be read, and the term "timer" for something that can trigger a time-related event.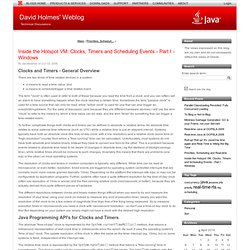 Inside the Hotspot VM: Clocks, Timers and Scheduling Events - Part I - Windows : David Holmes' Weblog
Floating Processing clouds with minim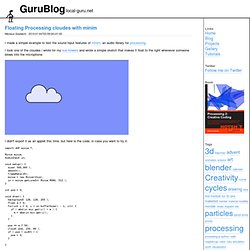 I made a simple example to test the sound input features of minim, an audio library for processing. I took one of the cloudes i wrote for my ical-flowers and wrote a simple sketch that makes it float to the right whenever someone blows into the microphone. I didn't export it as an applet this time, but here is the code, in case you want to try it.
Read/Write HTML field values from Java - Real's Java How-to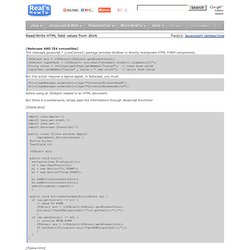 Read/Write HTML field values from JAVATag(s): Javascript interaction [Netscape AND IE4 compatible] The netscape.javascript.* (LiveConnect) package provides facilities to directly manipulate HTML FORM components. JSObject win = (JSObject)JSObject.getWindow(this); JSObject inputText = (JSObject) win.eval("document.forms[0].elements[0]"); String value = (String)inputText.getMember("value"); // read form value inputText.setMember("value" , value + " new stuff"); // write form value But this action requires a signed applet. in Netscape, you must