Laser service
TLC
Stencil laser cutting manufacturer | custom laser cut stencils | Laser Cutting Services | stencil and laser cutting designs
Laser Cutting Services are a UK Custom Stencil maker providing the best quality custom stencil designs and laser cutting service. From bespoke stencils to very large stencils, from a street stencil to an industrial stencil, from film props to fashion accessories, any shape, size or quantity; our extensive knowledge and over 20 years of creative and technical expertise in laser cutting ensures you, as a top stencil maker UK, we ensure you a unique stencil product and service. The lasercutit team specialise in providing a totally bespoke laser cutting service and excel in the challenge of finding the solution to YOUR needs.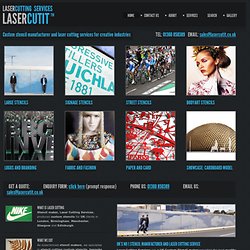 Laser Cutting for Designers, Illustrators and Creative people - Online Laser Cutting
LASER/MAKE - Laser cutting, engraving design and production in London.
Prices are complex things in our line — on the one hand, we discount for more time on the machine, on the other we often have to work to convert files or develop a client's ideas ...and then there are material considerations. Put really simply — you can drop us a line, ideally with a sketch outlining what you're interested in, and we'll get back to you within 36 hours with a quotation or some questions. Setup Most jobs have a flat £10 setup.Jobs requiring additional handling — either at the digital input or physical output stages (ie. file development or complex cut management), may have additional charges. Machine time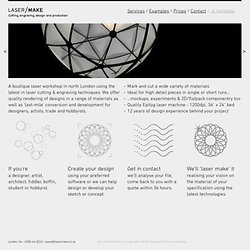 At Medio Design's workshop in Barcelona, a CNC machine cuts a standard sheet of birch plywood that is used to make all the pieces for four Elephant Chairs. The efficient production method means that there is very little waste material produced and each chair is easily assembled. Medio Design sources its birch from sustainably managed Finnish forests. There is even a child-sized version of this chair available for the mini design aficionado in your household! + Medio Design
Laser-Cut Elephant Chair by Medio Design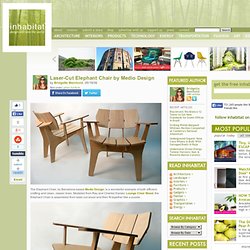 Laser cutting acrylic,paper,cardboard,textile,leather,wood - materials
How it works... You send your files Getting everything together in drawings for laser cutting and engraving is the key first stage. You can also send us what you can to best show your job specification.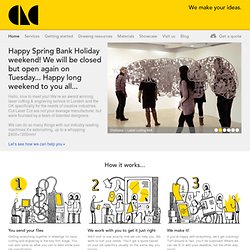 Cut laser cut | Laser cutting and engraving service for creatives in London and the UK.| Laser cutting | Laser engraving - Home
Cardboard Safari