Softs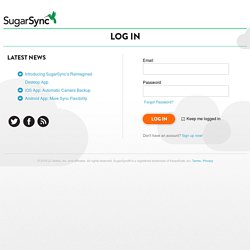 SugarSync
A verification email has been sent to . If you don't receive the email, check your Spam / Bulk folder. Verify your email address
Récupérer un fichier excel endommagé
Récupérer un fichier excel endommagé Bonjour et bienvenue ! Si vous aimez cet article, n'hésitez pas à vous abonner au site via son flux RSS suivre Korben.info. Si pour se venger, votre ordinateur (Windows) a corrompu comme un gros enfoiré le document excel sur lequel vous êtiez en train de bosser, pas de panique !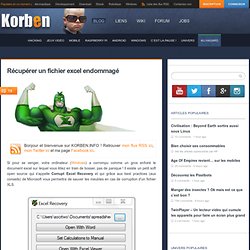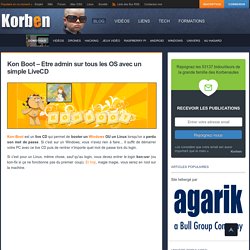 Kon Boot – Etre admin sur tous les OS avec un simple LiveCD
Kon Boot – Etre admin sur tous les OS avec un simple LiveCD Kon-Boot est un live CD qui permet de booter un Windows OU un Linux lorsqu'on a perdu son mot de passe. Si c'est sur un Windows, vous n'avez rien à faire... Il suffit de démarrer votre PC avec ce live CD puis de rentrer n'importe quel mot de passe lors du login.
Logiciel Antivirus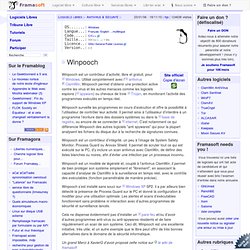 Winpooch - AntiVirus & Sécurité
Winpooch est un contrôleur d'activité, libre et gratuit, pour Windows. Utilisé conjointement avec l'antivirus ClamWin, Winpooch permet d'obtenir une protection active contre les virus et les autres menaces comme les logiciels espions (spyware) ou chevaux de troie Trojan, en monitorant l'activité des programmes exécutés en temps réel. Winpooch surveille les programmes en cours d'exécution et offre la possibilité à l'utilisateur de contrôler leur activité. Il permet ainsi à l'utilisateur d'interdire à un programme l'écriture dans des dossiers systèmes ou dans la base de registre, ou encore de se connecter à internet.
Merci d'avoir rempli le formulaire d'enregistrement. Si votre navigateur accepte les Cookies , vous accéderez automatiquement à ce site sans devoir saisir à nouveau vos renseignements personnels. Procédure d'installation Après avoir téléchargé le(s) fichier(s) exécutables, suivez les simples instructions suivantes pour effectuer l'installation. Sélectionnez le dossier dans lequel vous avez copié le fichier téléchargé. Exécutez setup.exe depuis ce dossier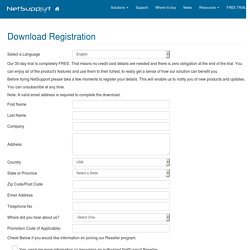 Download NetSupport products
Introduction ComboFix est un programme, créé par sUBs, qui recherche sur votre ordinateur certains nuisibles, et qui, s'il les trouve, essaie de nettoyer ces infections automatiquement. En plus de savoir ainsi supprimer un grand nombre des nuisibles actuels les plus répandus, ComboFix affiche aussi un rapport (un log) qui peut être utilisé par des assistants confirmés afin de supprimer des nuisibles n'ayant pas été détruits automatiquement par le programme. A l'heure actuelle, ComboFix ne peut fonctionner que sur les versions de Windows suivantes: Windows XP (32-bit seulement) Windows Vista (32-bit/64-bit) Windows 7 (32-bit/64-bit) Vous ne devez pas utiliser ComboFix sans qu'un assistant vous demande expressément de le faire.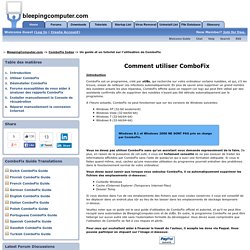 Katana 2 – y0jimb0 Katana est une suite portable d'applications dédiées à la sécurité. Cette archive de 4 Gb, une fois décompressée sur une clé USB, vous permettra de booter au choix sur : BackTrackthe Ultimate Boot CDCAINEUltimate Boot CD for WindowsOphcrack LivePuppy LinuxTrinity Rescue KitClonezillaDerik's Boot and NukeKon-Boot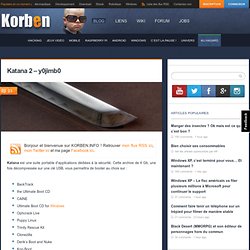 Katana 2 – y0jimb0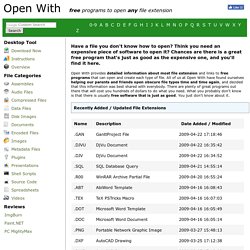 Have a file you don't know how to open? Think you need an expensive piece of software to open it? Chances are there is a great free program that's just as good as the expensive one, and you'll find it here. OpenWith.org provides detailed information about most file extension and links to free programs that can open and create each type of file. All of us at OpenWith.org have found ourselves helping our parents and friends open obscure file types time and time again, and decided that this information was best shared with everybody. There are plenty of great programs out there that will cost you hundreds of dollars to do what you need.
Turnkey Linux is a virtual appliance library that integrates and polishes the very best open source software into ready to use solutions. Each virtual appliance is optimized for ease of use and can be deployed in just a few minutes on bare metal, a virtual machine and in the cloud. We believe everything that can be easy, should be easy. Packaging a solution as a virtual appliance can be incredibly useful because it allows you to leverage guru integration skills to build ready to use systems (I.e., turn key solutions) that just work out of the box with little to no setup.